George Clooney Looks Back At His TV Career, And So Do We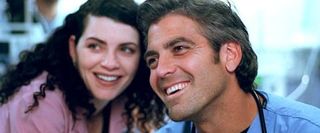 I sometimes forget that Academy Award winning actor-director George Clooney was once a television star. It seems so long ago that he was curing what ails as Dr. Doug Ross on NBC and Michael Crichton's uber-popular medical drama ER. Well before that break-out role Clooney could be seen all over the small-screen, most notably on The Facts of Life or Roseanne, and he talks a little about all of them during this chat with The Hollywood Reporter's Todd McCarthy.
Clooney is obviously best known now for his feature film roles (not to mention his intelligence, bachelorhood, and dashing good looks) with two high-profile projects making the festival rounds as I type. He directed and has a supporting role in his political (shocking) drama The Ides of March but Clooney is really generating Oscar buzz for his role in Alexander Payne's The Descendants (listen to Katey gush about that as part of her TIFF coverage). However, even the Cloon-dog (that's what I call him) doesn't forget his roots as he attributes all this success to paying his dues in television.
In fact, when McCarthy asks him if he can remember the moment when things turned for him, from actor to star, he says,
Before Clooney was on ER, he was 'that guy from that thing' as Booker Brooks on the popular sitcom Roseanne and the best line from the entire interview happens when discussing the program and it's volatile/funny star. Clooney notes, "the first season of Roseanne was pretty fun. The first time I met her she's like, 'You're really good looking. Why don't you take me behind the stage and make me stink?'" Yeah. Watch the rest to catch some more gems like that...
The Early Years of George Clooney's Career (via THR (opens in new tab))
I can't let Clooney take a walk down memory lane without joining in, complete with video evidence. Just watching the progression and regression of his hair styles is worth taking a brief look at each of these vids.
E/R - First off, before there was ER there was E/R, a medical dramedy starring Elliot Gould that lasted all of one season. Here's a look at George playing Ace.
The Facts of Life - After the brief stint on his first medical drama, comes his brief stint on The Facts of Life as George (inspired character naming there). The show was about a group of girls attending a boarding school and Clooney shows up near the end of the series' nine year run.
Roseanne - Next comes his appearance on Roseanne, where he showed up in 11 episodes at the beginning of the show's run. It's not surprising to hear the sexual harassment anecdote from Clooney in the THR interview since his role as Booker Brookes was essentially eye-candy for Roseanne and Jackie at work. Here's a clip.
Baby Talk - Who can forget the classic film Look Who's Talking?. I know I can't but what I can forget (or never actually recall in the first place) was the TV show based on the exact same premise called Baby Talk, featuring Tony Danza in the Bruce Willis baby-voicing role. Clooney appears in five episodes of the one-season series as Joe. Oh, the show also featured Scott Baio... how did this not last for years?
Bodies of Evidence - Now we're getting serious. George then tried his hand at police procedurals with the hard-hitting Bodies of Evidence, a show that lasted all of 16 episodes with the actor playing Detective Ryan Walker. Here's how Det. Walker handles the interrogation room.
Sisters - Almost there. Right in the middle of the show's run, Clooney appears as Detective James Falconer in Sisters. Apparently, while at college Cat Reed is the victim of a sexual assault, which Det. Falconer must investigate, but, little does he know that he'll soon fall in love with the victim's sister Teddy only to be killed off one season later. A pretty epic 19-episode run if you ask me (enjoy the Hebrew subtitles).
ER - Now the role that changed everything. Dr. Doug Ross performed five seasons of medicine for ER, a smash hit medical drama on NBC. As Clooney notes in the interview, this series was getting 3 times the viewership of American Idol, which is pretty significant, especially when you take into account its 10 o'clock time-slot. The show had been a revolving door for actors, launching many careers but none as high-profile as Clooney's. Here you can see his (and Julianne Margolis') much anticipated return for the shows 15th and final season.
Once thing is for sure, no one can say that the now huge star didn't pay his dues. George Clooney can next be seen in Ides of March (which he also directed) on October 14 and then The Descendants on November 18th.
Your Daily Blend of Entertainment News
Thank you for signing up to CinemaBlend. You will receive a verification email shortly.
There was a problem. Please refresh the page and try again.