The Going Clear Scientology Documentary Has Been Watched By A Ton Of People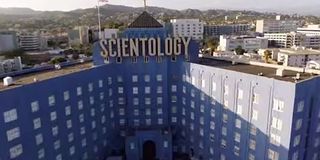 There's no denying that HBO's new documentary Going Clear: Scientology and the Prison of Belief has been a hit. The film premiered to 1.65 million total viewers when it hit the schedule a couple of weeks ago, and new reports indicate that more than 5.5 million people have watched Going Clear since it was made available to subscribers. Those wouldn't be mind-blowing numbers for a network show, but for a documentary that airs on a subscription cable channel, they're enough to write a news story about.
Current estimates indicate that Going Clear will probably, in fact, rank as the second-highest documentary on HBO in terms of viewership in more than a decade. It would probably be first if Beyonce Knowles wasn't such a huge draw. That's right, currently Bey's Life is but a Dream documentary has brought in the most viewers, with the AP reporting that it has nabbed more than nine million total viewers. Currently, Going Clear is also still behind in the standing when compared to Spike Lee's When the Levees Broke documentary, though that should change pretty soon.
Regardless, Going Clear is still a high interest property for the subscription cable network. Thanks to Scientology making a stink, the news has been flooded with stories about the documentary over the past few weeks, with John Travolta even making statements about why he wouldn't be watching (which probably only served to spur interest). The documentary, directed by Alex Gibney, is also getting regular airplay on the network and is available On Demand and via HBO's streaming platforms, so it's fairly easy to watch if you are a subscriber.
The news comes as HBO is coming off of several big premieres. Game of Thrones did quite well when it hit the schedule over the weekend, and fellow Sunday programs Veep and Silicon Valley have been renewed. On the non-scripted production front, The Jinx also enraptured audiences when it hit the schedule spring.
All together, it's been a great few months for HBO and also a great few months for unconventional programming. True life stories don't always attract much attention or move the needle in terms of viewers. They're typically long processes to complete, usually without a lot of upside. It's nice to see viewers latch on to Going Clear and The Jinx. Hopefully, their success means we'll see a lot more in the future get the attention they deserve. It's better for all subscribers when HBO's niche programs remind the service why they're worth paying for. Game Of Thrones might be flashier, but quality programming comes in many forms.
Check out Going Clear, only on HBO.
Amazing Race & Top Chef superfan with a pinch of Disney fairy dust thrown in. Theme park junkie. If you've created a rom-com I've probably watched it.
Your Daily Blend of Entertainment News
Thank you for signing up to CinemaBlend. You will receive a verification email shortly.
There was a problem. Please refresh the page and try again.