HBO Just Renewed Veep For Season 5 And Silicon Valley For Season 3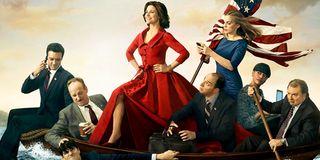 It appears that HBO plans on sticking with its Sunday night satirical comedy pairing for yet another year, as both the perennial political farce Veep and the sophomore tech-centric situational satire Silicon Valley have been officially renewed. The announcement comes less than 24 hours after the airing of the season premieres of this superb power-block of shows, both of which enjoy their weekly airings after the monstrous mega-hit Game of Thrones.
While the renewals certainly come as little surprise, the announcement from HBO confirming the returns of Veep for Season 5 and Silicon Valley for Season 3 should nevertheless provide relief for fans of the quirky coupling, knowing that neither of the buzz-brimming comedies will fall to any drastic removals. The shows have been firmly hammocked between the already renewed heavy hitters Game of Thrones and Last Week Tonight with John Oliver, in what seems to be an effective cleansing of the palette after an hour of death, sex, destruction, and general medieval maliciousness from Thrones.
For Veep, the renewal was likely more perfunctory, since the political satire show, which debuted in 2012, has well-established itself as a hilarious hit. (And actually got us talking about Anna Chlumsky again.) Starring TV comedy royalty Julia Louis-Deyfus as the catty, clueless Vice-President Selina Meyer, who leads a bizarre brigade of staff members, the show has already reaped several prizes in the Awards show circuit, including three consecutive Emmy wins for Dreyfus. The show's premise following Meyer as a bumbling, social-climbing lightweight of a politician, and it has evolved its storyline to the point where Meyer has stumbled her way into occupancy of the Oval Office as the President. It's a dry, but rich show that, at its heart, is about what Selina's eccentricities do to her already friction-addled assemblage of aides. Plus an endless assortment of four-letter-words.
The news is especially sweet for fans of Silicon Valley, seeing as its renewal last season was anything but a sure thing. The half-hour comedy was created by Mike Judge, who brought the guilty pleasure lowbrow laughs with Beavis and Butt-Head and the identifiable wit of films like Office Space and Idiocracy. However, unlike those properties, the show stands as a contemporary take on the West Coast Gold Rush with a new media twist, portraying its titular setting as a hilarious, hubris-brimming City by the Bay where everyone you see has a tech startup, an apparently world-altering idea, and stratospheric self-esteem regarding the reach of their work. However, only few have what it takes to grab the brass ring. Unfortunately, those few do not yet include the show's likably eccentric cast of characters.
As if you need to be told (but we'll tell you anyway), you can catch HBO's super Sunday lineup starting with Game of Thrones at 9 p.m. ET, followed by Silicon Valley at 10 p.m., Veep at 10:30 p.m., Last Week Tonight with John Oliver finishing things off at 11 p.m.
Your Daily Blend of Entertainment News