Gotham: How Jerome Set Up The Real Joker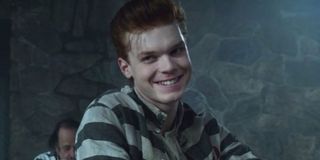 There are going to be spoilers throughout this article, so if you haven't watched Monday's Gotham episode, yet, you may want to steer away, now. Everyone still here? Great.
The question of whether Jerome would one day be the Joker has been bandied about since the character was first introduced back in Season 1. However, last night we got the answer to that, thanks to a sudden and eventful death at the hands of Theo Galavan. Today, Cameron Monaghan, who played Jerome, has spoken out about how the character may not be the eventual Joker, but he's still the person to set up the famous character.
Monaghan's comments to TV Line are compelling, but the reaction last night was a little different. I think a lot of people watching last night's episode refused at first to believe that the blade to the neck that Jerome got was the real thing. At first it seemed like some trickery could be involved, as Barbara and Jerome's magic act also was a set up to make Galavan look like a good guy. Unfortunately for fans who were interested in watching his unique brand of villainy play out on the small screen, Jerome is truly dead and gone.
However, that doesn't mean his influence will be totally lost in the weeks to come on Gotham. Monaghan rightly says his character "represents the idea" of the Joker, and we wouldn't be surprised if that eventually spawns some copycats in the city. Eventually, we already know that Jerome will be a big influence on the Joker, so his type of villainy is not just going to go away. Especially since the end of the episode featured a scene in which a bunch of people attempted to impersonate his unique cackle and cause problems in Gotham.
Really, when Monaghan was first signed on to Gotham, it was for only a one-episode stint last TV season. We're pretty lucky that the actor was even able to come back for Season 2, at all. And while his madness will be missed, the fact that the city of Gotham is somehow, somewhere cultivating the person who will eventually become the Joker is pretty exciting. Because Gotham has been pretty in-your-face blatant about the villains who are wreaking havoc or who are being cultivated, like the Riddler, the Joker red herring is one we didn't mind in the least.
Of course, with one big villain dead, the "rise of the villains" is looking less impressive. Theo Galavan is still messing with the GCPD, though, and eventually things could get really bad for the people of Gotham.
You can find out what happens when Gotham airs on Monday nights at 8 p.m. ET, only on Fox.
Reality TV fan with a pinch of Disney fairy dust thrown in. Theme park junkie. If you've created a rom-com I've probably watched it.
Your Daily Blend of Entertainment News
Thank you for signing up to CinemaBlend. You will receive a verification email shortly.
There was a problem. Please refresh the page and try again.