Gotham Just Cast A Major Villain And We Love Who's Playing Him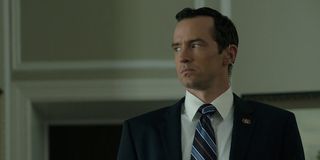 Gotham Season 2 is only one month in, and already several members of Batman's rogues gallery have left their mark on the show. Joker red herring Jerome (who influenced who will eventually become the real Clown Prince of Crime) caused chaos around Gotham City last week and this week saw a female Firefly on the forefront. Plus, Penguin and Riddler are dealing with their own problems. Now, one of the Dark Knight's chillier adversaries is coming after being announced earlier this year. That's right, Victor Fries, a.k.a. Mr. Freeze, is on the way, and he'll be played by House of Cards actor Nathan Darrow, an expert in playing intense characters.
Darrow's Fries is described as one of the city's greatest cryogenics engineers who "struggles to make meaningful connections with others." The exception has been falling in love with the terminally-ill Nora, and as her condition worsens, Fries will go to any lengths to freeze her before she dies, which will eventually lead to his transformation into Mr. Freeze. Executive producer John Stephens informed TV Line that Fries will debut in the Nov. 30 episode, titled "The Son of Gotham," and following that, a "heavy Freeze story" will be told in Episodes 12 and 13.
For his first few decades, Freeze was largely a "joke" villain who was only popular because of his gimmick rather than for any notable character traits. It was in the 1990s hit Batman: The Animated Series that the tragic version of the character was introduced that featured the man using his obsession with cold to find a cure for Nora. Gotham has been playing around with the timelines of when Batman's enemies make the transition to "super villains" and judging from the description above, it sounds like Fries may become Mr. Freeze years before Bruce Wayne puts on the cape and cowl. That doesn't necessarily mean he'll immediately start committing crimes with his infamous freeze gun, but don't be surprised if an accident gives him a "slight" aversion to normal temperatures. Either way, expect Darrow to go all out on this role.
Mr. Freeze was last seen in live action being played by Arnold Schwarzenegger in 1997's Batman & Robin, and most of us have tried our damnedest to block out that pun-filled performance. The character's other big media appearances include The New Batman Adventures, The Batman, Young Justice and Batman: Arkham City. As for Darrow, he's best known for playing agent Edward Meechum on House of Cards, but his other work includes a guest spot on Blue Bloods and a recurring gig in the upcoming series Billions. He should be a great fit.
New episodes of Gotham air on Mondays at 8 p.m. EST on Fox.
Connoisseur of Marvel, DC, Star Wars, John Wick, MonsterVerse and Doctor Who lore. He's aware he looks like Harry Potter and Clark Kent.
Your Daily Blend of Entertainment News
Thank you for signing up to CinemaBlend. You will receive a verification email shortly.
There was a problem. Please refresh the page and try again.