Greek Could Come Back, Here's What's Happening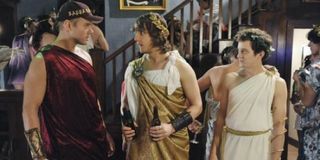 If there's one thing we look back on more fondly than our college days, it's the television series based upon our college days. TV shows centering on college kids are nothing new, but there was always something special about the newly rebranded ABC Family's Greek that captured our collective interest. The show's absence has been undoubtedly noticeable since it went off the air in 2011, but that void may soon be filled anew, as we've just learned a potential Greek movie is currently in development.
Anyone who misses the drama from Cyprus Rhodes University may be in luck. A report from Deadline indicates that Freeform has begun development on a film titled Greek: The Reunion. The made-for-TV flick would likely see everyone's favorite characters - such as Cappie, Casey and Rusty Cartwright, Evan Chambers, and Rebecca Logan - return to the college for their five year class reunion, which is conveniently five years after the show ended its run. Beyond that, Freeform has remained relatively tight-lipped regarding where the film could take these beloved characters.
One thing that set Greek apart was its depiction of the collegiate Greek system. While numerous films and television shows either opt to demonize or unfairly praise the system, Greek presented it as it really is: a social structure within an academic institution. Centering its early episodes on young freshman Rusty Cartwright, the show eventually grew into an incredibly relatable ensemble narrative about the trials and tribulations of this stage of early adulthood, and how to navigate that particular social scene.
It wasn't quite Revenge of the Nerds or Neighbors, but it also wasn't quite Animal House. Sure, everyone was beautiful and the parties always seemed awesome – this is television after all – but Greek always managed to do an impeccable job of providing real human drama, rather than simply satirizing the Greek system that its characters inhabited.
As a member of the Greek community, let me tell you that this scene of Rusty Cartwright gets me right in the feels every single time:
Of course, we have to close all of this with the disclaimer that this project is in the very early stages of development. Almost no information has come forward in terms of plot, and the network has not even nailed down which of the characters will ultimately return. Honestly, as long as Cappie and Casey come back, all will be right with the world.
Are you excited about the possibility of a Greek reunion movie? Is a movie even enough, or do we need ten more seasons? Let us know what you think in the comments!
Originally from Connecticut, Conner grew up in San Diego and graduated from Chapman University in 2014. He now lives in Los Angeles working in and around the entertainment industry and can mostly be found binging horror movies and chugging coffee.
Your Daily Blend of Entertainment News
Thank you for signing up to CinemaBlend. You will receive a verification email shortly.
There was a problem. Please refresh the page and try again.