Greg Daniels And Rainn Wilson Dish On The Office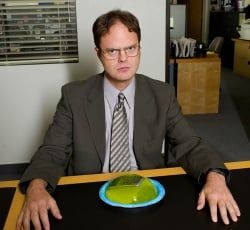 We're only a few weeks away from The Office's scheduled April 10th return, but I can hardly contain myself. Like Blend Television's Kelly West, I've been rewatching season 4 and impatiently waiting to find out what's new with the Scranton gang. The writers strike left us with so many questions: Will Dwangela reunite? Can Michael curb Jan's spending? Will Angela Kinsey's real-life pregnancy be written into the show? What about Jim and Pam??? While some of these questions remain unanswered until April, E! Online's Kristen Dos Santos was lucky enough to speak to Rainn Wilson (Dwight) and Show Runner Greg Daniels, both of whom had some Office dirt to share.
Ever since Angela Kinsey, who plays Angela on the show, announced her pregnancy, I've been wondering how the writers were going to handle it. Would they hide her behind potted plants, or would they write it into the show? Personally, I hoped for the latter, as a "Whose the daddy: Dwight or Andy?" storyline sounds like a lot of fun. Especially if they dragged it out for a few seasons and we only found out the answer after the kid either developed a love of weaponry and beets or a capella and rage. Unfortunately, that wasn't meant to be. Kinsey's pregnancy will not be written into the show. Of the decision, Wilson said, "[Angela] looks exactly the same, except with this enormous tummy. I imagine all her scenes from now on will take place behind the copy machine."
Since they won't have a baby to bring them back together, the chances of a Dwangela reunion are looking pretty slim. No word on whether or not Angela and Andy make a lasting love connection, but Dwight may be finding himself a new lady. Apparently, he may have a certain ex-lady friend stationed in Kuwait City, who isn't just a product of his imagination.
While there isn't any news on the Jim and Pam front, we did find out a little bit about The Office's other great love: that of Michael and Ryan. According to Daniels, Michael brings Dwight out to New York City in an effort to get closer to his new(ish) boss. Perhaps Michael feels that Ryan needs some cheering up after the failure of Dunder Mifflin Infinity, the company website that he spearheaded which is now overrun with sexual predators.
That's all the gossip we have for now. I'm going to resume my Office countdown, but if we hear anything else, you can be sure we'll bring it right to you.
Your Daily Blend of Entertainment News
Your Daily Blend of Entertainment News
Thank you for signing up to CinemaBlend. You will receive a verification email shortly.
There was a problem. Please refresh the page and try again.