Grimm's Ratings Are Not Looking Good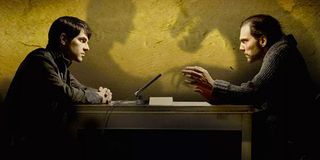 For five seasons, Grimm has had pretty big success on NBC--especially for a Friday night series. The supernatural drama has done well thanks to a Friday night slot, but it seems as if fans are less excited than they once were. When Grimm premiered this fall, the show was down from both the season average and the finale last spring, and the numbers have only dropped from there. The most recent episode, in fact, was down 11% from the week prior, marking a series low in the 18-49 rating for the once-popular NBC drama. It's a trend that we've seen happen to several long-running shows this season.
Despite the series low rating, the latest episode of Grimm wasn't the worst episode in overall viewership the Friday night drama has ever seen. In fact those honors go to last week's episode, which only saw 3.62 million viewers tune in the night the show aired. This week's episode saw 3.7 million total viewers tune in. So, how exactly did Grimm hit a series low?
The answer lies in the advertising demo. While overall viewers did manage to tick up this past Friday, according to TV Line, the show only did a .8 rating, which means less people between the ages of 18-49 caught the episode than any other episode previously. While that might not seem like a huge deal, since advertisers often rely on that number, seeing the words "series low" are never a good thing.
There could be several problems leading to Grimm's lowering numbers. First and foremost, the show is not as young as it once was. In addition, fewer people are watching shows live than they once were, although that probably doesn't account for the markedly sizable drop in viewers between Season 4 and 5. Grimm also got a late start this year on October 30, similar to the last couple of seasons. And while the week of Halloween premiere is a nice touch for a supernatural drama, a lot of people have already settled into their weekly TV schedules by the end of October and the beginning of November.
However, I think the biggest problem is that NBC hasn't found a suitable match for Grimm on Friday nights. Dracula and Constantine both had avid—if not spectacular—fanbases, but didn't end up getting second seasons at the Peacock network. This year, NBC opted to air comedies Undateable and Truth Be Told in front of the drama. While Undateable, at least, has its fans, unlike Dracula and Constantine neither comedy really feels like a match for the antics on Grimm.
Grimm isn't the only aging show that has dealt with a ratings problem this season. ABC's Castle and Fox's Bones have also seen their ratings falter, and the latter series is not even on Fox's midseason schedule. Hopefully, Grimm will pick up as it moves forward, but for now, it's not looking good.
Reality TV fan with a pinch of Disney fairy dust thrown in. Theme park junkie. If you've created a rom-com I've probably watched it.
Your Daily Blend of Entertainment News
Thank you for signing up to CinemaBlend. You will receive a verification email shortly.
There was a problem. Please refresh the page and try again.