Grimm's Claire Coffee Promoted To Series Regular In Season 2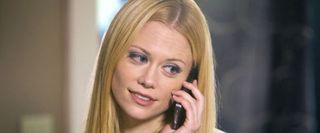 Grimm is making some additional changes to its Season 2 cast. The hexenbiest/human with the super German last name, Adalind Schade, has been upped from a recurring role on NBC's cult Friday night series to a regular role. So, if you were excited to hear the sexy-lawyer-turned-creepy-monster will be returning for Season 2, you should be doubly excited about the recent news.
Schade has been played by actress Claire Coffee since the very first episode of Grimm and has appeared, intermittently, throughout the series. She started causing trouble nearly immediately, attempting to kill Nick's aunt and later trying to seduce Hank (If it proves how competent she is, that actually worked). Along with Adalind's havoc-wreaking nature, she's also a shrewd and quick-thinking villainess, who has become integral to the plot due to her ability to keep the audience guessing. She kind of left us with a cliffhanger on her storyline with that weird cat plotline, and I can't wait to see what she will get up to in Season 2.
Grimm's season premiere will hit television this week, and NBC has been busy working out the details for Season 2. A couple of days ago, Luck's Jason Gedrick was added to the cast, and now fans should be super stoked to hear that one of the series' best characters will be around all the time. According to Deadline, Coffee's return is effective immediately, so expect to catch the blonde lawyer when Season 2 of Grimm premieres on Friday, September 28 at 9 p.m. ET.
Your Daily Blend of Entertainment News