HBO Picks Up Woody Harrelson And Matthew McConaughey Series True Detective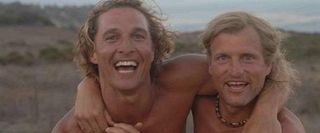 Not surprisingly, the Woody Harrelson and Matthew McConaughey project True Detective has found its cable home. HBO is finalizing the deal to pick up the project with a straight-to-series order following a bidding war between the cable networks. Two big names like these were bound to spark a lot of interest.
Earlier in the month, the project set to star best friends Harrelson and McConaughey was announced and prepared to pitch to the cable networks. It generated plenty of interest and it looks like HBO has come up on top according to Deadline; the deal is nearly done with an eight-episode first season order.
True Detective is about two detectives (Harrelson and McConaughey) who investigate an over fifteen-year-old murder. The format will move back and forth between testimony from the present day investigation and what happened in 1995, when the murder occurred. Each season will follow this same structure, but will feature a new story. Harrelson and McConaughey will be on board for the first season, and a new set of stars will take over should the series get renewed.
The series already has two episodes and a bible written, and also has Cary Fukunaga signed on to direct. It seems writer Nic Pizzolato has signed an overall deal with HBO, and this series is part of the package, so we should be hearing more from him soon. Meanwhile, we can look forward to seeing Harrelson and McConaughey on the small screen together for the first time.
Your Daily Blend of Entertainment News
Your Daily Blend of Entertainment News
Thank you for signing up to CinemaBlend. You will receive a verification email shortly.
There was a problem. Please refresh the page and try again.