Woody Harrelson And Matthew McConaughey Signed OnTo Star In Cable Project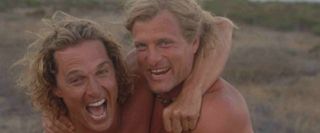 Real life best friends Woody Harrelson and Matthew McConaughey have signed on for a cable drama project together. True Detective is set to star the two as cops whose lives become ensnared together as they investigate a more than fifteen-year-old murder that may lead to a serial killer. This is big news; it would bring the duo together for the first time on television (they done two movies together, EdTV and Surfer, Dude).
It would also be a first-time regular series role for McConaughey, and a big return to television for Harrelson, who became a household name way back on Cheers. Deadline says the plan is for the two to star in an eight-episode first season in which the mystery of a 1995 murder is revisited in 2012 as the case is re-opened. The structure of the series will use the testimony of the present-day detectives mixed in with the original investigation as the mystery is solved over the season.
The idea is that subsequent seasons will have a similar structure, but will tell a different story involving different characters – so it looks like we can only expect to see McConaughey and Harrelson in the first season. Getting two big names on board for a project like this is big news and sure to draw major buzz, even if they aren't planning to stay with the project should it move forward into more seasons. It will be interesting to see how a potential second season will manage casting to live up to this initial level of star power.
The project is said to be pitching to cable networks and already has a writer (Nic Pizzolato) and a director (Cary Fukanaga) on board. I can't imagine that it will have much trouble finding a good home.
Your Daily Blend of Entertainment News