Hank Williams Pulled From Monday Night Football For Obama/Hitler Analogy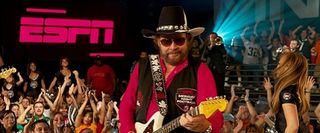 After making a comment on Fox News (where else?) in which he compared President Obama's recent meeting with John Boehner, Republican House Speaker, to a hypothetical meeting between a certain famous Nazi dictator and an Israeli leader, Hank Williams Jr. has been dropped by ESPN. Well, for one night anyway.
With emotions running high over the comments made by the country singer, ESPN decided his voice and song would not be used in the traditional opening to Monday Night Football this evening. Normally, viewers hear Williams ask "Are you ready for some football?" during the opening song, also performed by him. ESPN decided their viewers had heard enough from Mr. Williams for one day, however. The song has been used before football games for 20 years, making this a pretty big decision on the part of ESPN.
Williams comments were not limited to suggesting that Obama's "golf summit" with Boehner was akin to Hitler hanging out on the links with Benjamin Netnahyu. He also called Obama and Biden "the enemy" and the "Three Stooges". Math is apparently not Hank's strong suit. His rant on Fox and Friends even seemed to leave the hosts at a loss.
The sports network decided to respond by pulling Hank's opening from Monday Night Football, and issued a statement:
Williams responded agreeing his "analogy was extreme", but refused to take back his remarks. He plans to run for the US Senate on a Republican ticket in 2012. That should be entertaining, to say the least.
Your Daily Blend of Entertainment News
Thank you for signing up to CinemaBlend. You will receive a verification email shortly.
There was a problem. Please refresh the page and try again.