Henry Ian Cusick Won't Return For Season 2 Of Scandal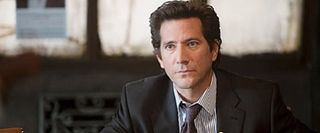 When Shonda Rhimes' new drama Scandal returns for its second season, Henry Ian Cusick won't be a part of the cast. His contract hasn't been renewed for season 2, and apparently the decision was made on friendly terms, and was a mutual one. My guess is that it was more the call of the producers than of Cusick though, since a role on a Shonda Rhimes series is usually a pretty good deal for any actor.
Cusick won't reprise his role as Stephen Finch, says THR, the ladies man whose charms come in handy when he's digging up dirt for Olivia Pope (Kerry Washington). His character wasn't vital to the storyline, and it doesn't seem like it will be difficult to move forward without him, but fans of his from his Lost days may be sad to see him go. Cusick will be looking for new work it seems, but in the meantime he's got a feature film in post-production; The Girl on the Train is set for release in 2013.
Another one of Rhimes' shows, Private Practice recently saw a star exit; Tim Daly left the show. There have also been rumors that Kate Walsh could leave in the not-so-distant future as well. Of course, Private Practice is entering its sixth season and is likely to be impacted quite a bit more by these cast changes than Scandal, which is a new show and losing a more minor star. It's entirely possible Scandal is simply tightening up the ship and looking to a strong second season to back up its first season numbers, or it could be Cusick has his reasons.
Scandal has already taken over Private Practice's time slot, and took full advantage of the Grey's Anatomy lead-in. It's likely to be strong again next season. As for Private Practice, I have to say I won't be surprised if it doesn't hang on much longer. If Kate Walsh does leave, that will definitely hasten the end.
Your Daily Blend of Entertainment News
Thank you for signing up to CinemaBlend. You will receive a verification email shortly.
There was a problem. Please refresh the page and try again.