The Hilarious Reason Donald Trump Won't Impersonate Jeb Bush On SNL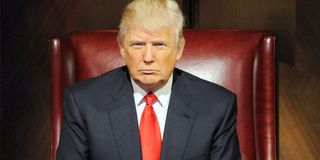 There's been a lot of buzz following Donald Trump lately as he embarks on an attempt to win the Republican nomination and take over the world. Oddly, as part of his political strategy, he's signed on to appear as the host on NBC's long-running sketch comedy show, Saturday Night Live. And while the man is game to attempt a lot of types of comedy on the series, there's one person he says he won't impersonate: Jeb Bush.
It doesn't shock us in the least that Trump would adamantly not want to give Jeb a nod on the sketch comedy series, but it's pretty fun that he manages to get in a jab while explaining why he doesn't want to impersonate Bush. Trump's been taking stabs at Jeb Bush for weeks, especially during the Republican debates, where he has called him "low energy," pretty much hammering home that term related to the former Florida Governor. But apparently taking that a step further and doing an impression of the candidate would be a step too far.
The comment came during a press conference to talk about the presidential hopeful's new book Crippled America. However, Trump's addition to the SNL hosting lineup during Season 41 has made a lot of headlines recently, so it doesn't really surprise us that the man might get questions related to this Saturday's big appearance.
In fact, Donald Trump has been dealing with backlash related to his SNL gig for several weeks now. Groups like the National Hispanic Leadership Agenda and the Campaign Legal Center have had negative things to say about NBC's decision to sign on Trump, especially after the network said they were firing Trump for some comments he made earlier in his campaign. (The latter feels the problem lies in the fact that Trump is getting more airtime than other candidates because of the SNL gig).
However, Trump doesn't really seem to care, and has even said the ratings are going to swell when he's on the show, which could actually happen due to the novelty of having someone like the outspoken former Celebrity Apprentice judge on the air. Trump said people should demonstrate if they are mad about the gig.
This won't be the first time Trump popped up on the long-running show; he also hosted back in 2004. However, he obviously has a lot more of the public eye trained on him at this point. Luckily (or unluckily) we won't have much longer to wait. Trump's appearance is happening on Saturday, November 7, starting at 11:30 p.m. ET, only on NBC.
Reality TV fan with a pinch of Disney fairy dust thrown in. Theme park junkie. If you've created a rom-com I've probably watched it.
Your Daily Blend of Entertainment News
Thank you for signing up to CinemaBlend. You will receive a verification email shortly.
There was a problem. Please refresh the page and try again.