What Tina Fey Thinks About Donald Trump Running For President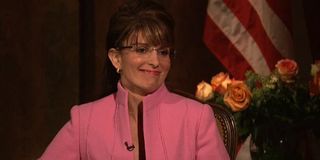 We all know Tina Fey as the queen of political comedy. Her consistently hysterical portrayal of Sarah Palin during the 2008 presidential race was a highlight of Saturday Night Live at the time. And now, with the 2016 race in its beginning stages, there is one particular candidate that Tina Fey is quite excited about— none other than Donald Trump. Why you may ask? Well, Fey deems Trump's presidential bid particularly great for the comedy industry.
During a panel at Television Critics Association for Fey's hit Netflix series, Unbreakable Kimmy Schmidt the actress/writer/comedian goddess, was naturally prompted about the current presidential race. To which she pointed out that Donald Trump's bid will make particularly great joke fodder (via Variety):
Trump's campaign has been nothing if not controversial, prime material for comedy. And while Fey admitted that she doesn't have any "fully formed jokes" for Trump's run quite yet, you better believe she'd love to get right in the middle of some classic SNL riffs tearing the outspoken billionaire apart. And considering Trump's celebrity status, we wouldn't be surprised if he decided to pop in on the sketch comedy series.
Fey suggests SNL alum Darrell Hammond reprise his parody role as Donald Trump. The comedian, most known for his Bill Clinton impression, also pulls off a hysterical Donald Trump.
And Tina Fey isn't the only one who can't wait to get started on the Trump jokes. Current writer and Weekend Update anchor Colin Jost is hoping Trump will still be around when Season 41 of SNL starts up. Jost told Business Insider:
Time will tell how where the presidential race takes us. Right now, Trump is leading the Republican polls. So if this continues, expect some spectacular comedy in our future.
Your Daily Blend of Entertainment News
Your Daily Blend of Entertainment News
Thank you for signing up to CinemaBlend. You will receive a verification email shortly.
There was a problem. Please refresh the page and try again.