History Of Rap 6: Watch Jimmy Fallon And Justin Timberlake Crush The New Version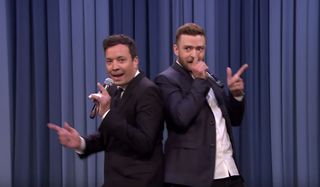 Justin Timberlake stopped by NBC's The Tonight Show to join in on some of the late night fun with his BFF Jimmy Fallon. And like JT and Fallon have shown us time and time again on Saturday Night Live, the two are unstoppable together. We've seen them take on the "History of Rap" segment before, and this time round Fallon and Timberlake completely crush it. Take a look:
Fallon and Timberlake took on a number of hip-hop classics ranging from LL Cool J's "Rock the Bells" to Wu-Tang Clan's "C.R.E.A.M." to Jay Z & Kanye's "Otis". Not only where the two performers equally impressive, but it was their reactions to each other that made the medley that much more entertaining. Justin Timberlake seemed to take the role of mentor to Fallon, what with him being the professional musician and new father. Timberlake had no problem pulling Fallon back to reality when he went a little too 'deep' into a song.
The best interaction between the two was definitely towards the start of their performance when Timberlake has to pull Fallon back from getting a little too NSFW. Fallon spits out the NWA tune "Straight Outta Compton", and immediately after he gets those three classic words out, Timberlake pulls him back with a no, no, no. Timberlake reminds the talk show host:
The duo proved they definitely know how to put on a show. By the end of the rap medley, they even had the crowd involved, dancing and singing along. But then again, this certainly isn't the first time that Jimmy Fallon and Justin Timberlake have gotten together to create a musical masterpiece. There are so many skits and wonderful moments highlighting their friendship. You may remember earlier this year, when Fallon and Timberlake kicked off the SNL 40th Anniversary Special with a rap and musical medley featuring some of the most memorable catchphrases from the show's history. While their rapping was some of the best parts of the cold opening, some of their musical numbers were just as special. Like their flawless transition from "Dick in a Box" to "Ambiguously Gay Duo". If you haven't caught it yet. Definitely take a look:
Fallon and Timberlake are not only hilarious on-screen, but their off-screen friendship is just as special. Just yesterday the two were caught in the stands of the US Open together, and when the camera set on them, what did they do? Well get up and break out into a "Single Ladies" dance, of course. Which you can check out here.
Tune in for more ridiculous celebrity fun on The Tonight Show with Jimmy Fallon weeknights at 11:35 p.m. E.T. on NBC.
Your Daily Blend of Entertainment News