Holy Flash! See How Awful Barry Allen Looks After That Epic Lightning Storm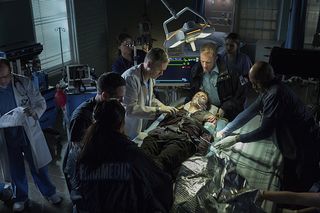 We're less than a month from the arrival of The Flash at The CW and the above photo does a good -- albeit dark -- job of reminding us of what's ahead. Barry Allen really doesn't look his best in the image, which shows him laying down while doctors work around him. The above photo is one of a group of new episode stills the CW has released for the series premiere of The Flash, "City of Heroes."
Looking at what Barry's wearing, it seems very likely that what we're seeing here is Barry Allen at some point not long after he was caught in the lightning storm that was started by the out-of-control particle accelerator. For reference, here's the scene in Arrow that shows Barry in his lab when the storm hit...
It's this incident that leads to Barry Allen becoming The Flash. But we know from Arrow that he spent some time in a coma before waking up with lightning fast speed.
CW's synopsis for the plot of The Flash notes that Barry's mother was murdered and that his father was falsely accused of the crime. That may be linked to the image we're seeing below, which shows Barry pressing his hand against a pane of glass...
Are we looking at the back of Barry's father's head and hand there?
Also among the images is this one, which shows Barry looking a bit dirtied up, and it looks like there's an overturned care behind him...
There's certainly plenty to look forward to with The Flash, between its tie-in with CW's Arrow, the anticipated appearances by original Flash cast members and other great guest appearances lined up.
You can check out more photos from the season premiere of The Flash in the gallery on the next page, including glimpses of Tom Cavanagh as Harrison Wells, Danielle Panabaker as Caitlin Snow and Candice Patton as Iris West. The Flash premieres Tuesday, October 7 on the CW. Check out the previously released extended trailer for the series after the jump...
Image 1 of 8