House Of Cards Just Delivered The Perfect Response To Its Emmy Loss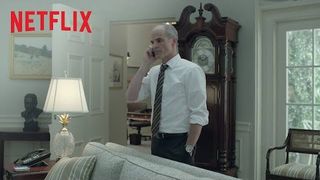 If you were watching the 66th Primetime Emmy Awards tonight, you already know that Netflix's House of Cards didn't win. Not long after the broadcast wrapped up, Netflix posted this video, which has House of Cards character Doug Stamper making a phone call...
"Jim, it's Doug Stamper. I thought we had a deal."
While some channels might like to follow up a string of award wins with a fun celebratory video that acknowledges their series' victories, Netflix has always been all about doing things their own way, and that includes having a funny video on deck to point out their non-win for Outstanding Drama Series this year. While House of Cards certainly deserved the spot it earned among the nominees, the excellent political drama had some tough competition and it didn't win the big prize. As you can see, Stamper is not happy about it.
Played by Michael Kelly, House of Cards' Doug Stamper is a character who gets stuff done. And in Netflix's video, it's implied that he had House of Cards' Emmy situation locked down. Apparently not, as House of Cards didn't manage to beat out Breaking Bad for Outstanding Drama Series.
House of Cards was nominated a total of 13 times this year, beating out the 9 nominations it earned in 2013. But it came up short in the wins. Last year, the Netflix drama won three Emmys. This year, it secured just one, for Outstanding Sound Mixing for a Comedy or Drama Series at the Creative Arts Emmy Awards. Among the nominations it earned in 2014 but didn't win: Outstanding Drama Series, Lead Actor (Kevin Spacey), Lead Actress (Robin Wright), Guest Actor (Reg E. Cathey) and Guest Actress (Kate Mara). It was also up for Writing, Directing and Casting, among other categories. You can view the list of Primetime Emmy winners here.
While House of Cards may not have come out on top this year, Netflix has more than proven to be a worthy contender at the awards shows. Not only did House of Cards make the list of nominees numerous times, Orange is the New Black scored nearly as many nominations in the comedy categories. The prison-set dramedy missed the Outstanding Comedy Series award -- losing out to Modern Family -- but it did win for Outstanding Casting, as well as Outstanding Guest Actress in a Comedy (Uzo Aduba) and Outstanding Single-Camera Picture Editing for a Comedy series. Those three awards were handed out at the Creative Arts Emmy Awards. View that list of winners here.
House of Cards was renewed for a third season earlier this year, and we expect to see Season 3 on Netflix next year.