How Connie Britton Feels About Nashville Ending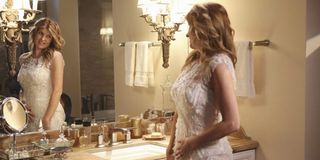 Every year, there are a couple of cancellations that totally blindside audiences. This year, ABC decided to cancel a couple of programs that were totally expected to get renewals. One of those shows was the long-running series Castle. The other show was the well-liked niche drama Nashville, which had signed on new showrunners before ABC ultimately opted to end its run. Although even the cast and crew of the series seemed a little surprised by the cancellation, recently Nashville lead Connie Britton spoke out about her feelings regarding moving on. Here's what she had to say:
Recently, Connie Britton popped up on Late Night with Seth Meyers to talk about leaving Nashville. She's spent the last four years filming in the Tennessee city, and she says it is really going to be difficult for her to adjust. Namely, she hasn't spent much time in Los Angeles over the last four TV seasons. In fact, her son is 5 and really has been raised in Nashville for his whole life. Britton told the late night host the whole cancellation has been a little "schizophrenic," as part of her is happy to return to Los Angeles and part of her will really miss her Nashville friends.
Normally, when a show ends, the actors and actresses who appear on the show are devastated, but for Connie Britton, it seems as if the ending of Nashville is a bit of a mixed bag. The finale, too, will probably be a mixed bag. Obviously, the Nashville team didn't realize the show would be ending when ABC opted to cancel it. An early look at the episode seems to indicate that Juliette Barnes will get a question about Jeff Fordham's death and more in the episode. There are a still lot of loose ends to tie up on Nashville and I'm note sure this series finale will wrap everything up.
Some reports have indicated that Lionsgate TV is looking to shop the series elsewhere. This was a few weeks ago and we haven't heard any further news on that front, plus Britton seems to believe she will definitely be leaving Tennessee soon. While the likelihood of a pick-up might be slim, if it does end up happening, doubtless fans would be happy. It would also mark the second time in a row a Connie Britton drama switched networks after cancellation. The same thing happened with Friday Night Lights a few years ago.
If you'd like to watch Rayna, Juliette and the rest of the main cast in their final outing on ABC, you don't have too much longer to wait. The series finale airs tonight at 10 p.m. ET, only on ABC. To find out what other shows have been cancelled and renewed, you can take a look at our complete network rundown.
Amazing Race & Top Chef superfan with a pinch of Disney fairy dust thrown in. If you've created a rom-com I've probably watched it.
Your Daily Blend of Entertainment News
Thank you for signing up to CinemaBlend. You will receive a verification email shortly.
There was a problem. Please refresh the page and try again.