How The Flash May Have Just Ruined Its Time Travel Awesomeness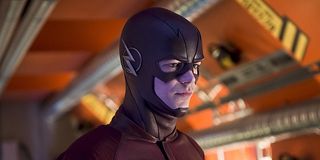 Spoilers if you haven't caught Tuesday's episode of The Flash.
Put your lightning bolt-emblazoned pitchforks down, everyone. I'm not running around and shouldering a sandwich board with the words "The End is Nigh for The Flash" scrawled on it or anything. But tonight's "Flash Back" took what could have been another standout time travel episode, complete with long-gone characters returning, and crapped all over both the narrative-driven drama and the series' sci-fi foundation by introducing the Time Wraiths, a…species?...that could potentially muck up this show's keen use of time travel in the future, both ours and Barry's, if they ever return.
We'll start with the idea behind the Time Wraiths, which is the only part of their inclusion that I'm non-argumentative about. Their existence is (presumably) solely meant to deter anyone from going back in time to directly alter the past, and it's definitely interesting for a timeline to somehow have a built-in security system. But considering they don't have a comic book origin, there were a million ways that the show's creative team could have gone with this plot mechanic that didn't involve personifying it through some goofy supernatural CGI spirits that, despite being intrinsically tied to one of science's core concepts, operate with very little rhyme or reason.
A wraith is in Barry's face sometimes, and is even able to enter the Speed Force (which is admittedly creepy as hell), but it's also sometimes doing shit nowhere near Barry, which goes against everything it stands for. How can something that only has one purpose be such a non-pressing threat? What is it even doing when it's not chasing Barry every second that he's still in this timeline? Figuring out how to work the language setting on the GPS?
While we're on the subject of ineffectiveness, how is it that Eobard Thawne lasted that long in the past without having Wraiths following his every step in Season 1? I guess the Wraiths work from small black-and-white photos and they didn't recognize him in Harrison Wells' body. I also don't understand how getting up in Barry's face and making him age quickly or sucking his soul or whatever does anything to protect the time stream. If these things are prominent enough that Thawne knew about them, that means we'll probably see them again when this show has to use the past, which is going to really knock down the quality of all of the previously gleeful and emotional time jaunts.
Now if we can get superficial for a little while, let's talk about how terrible-looking a Time Wraith is. Did Grodd take up so much of the computer effects budget that only pocket change was available to bring this concept to life? I'm sure that laughter was expected when Cisco used Peter Jackson's The Frighteners in describing the Wraith, but I don't think the writers aimed to make audiences reflect on how much better that 20-year-old film's effects were than what was seen in the episode. I guess I can't chide them for not making the Time Wraith completely horrifying, since this show is aimed for most ages, but still. Zoom is scary-ish. This is not.
In Hulu's 11.22.63., the "past" strikes back at its timeline-altering lead through random accidents and obstacles that don't look like effects sequences left on The Mummy's cutting room floor. It seems like this show would have been another perfect place to use science fiction complications to explain why time wants revenge, but instead we got this ghostly mess. And sure it's possible the CGI will look better if (or when, I say pessimistically) these things return to The Flash in Season 3 and beyond, but that's hardly the problem.
The Flash has laid out some goofy characters, plots and ideas in the past, no doubt, but so often with its tongue planted firmly in cheek. Nothing has ever made me vocally groan quite as hard as the Time Wraith did every time it crept out of the ethers. Future-Heaven help us if they decide to bring these abominations to other DC shows.
The Flash airs Tuesday nights on The CW.
This poll is no longer available.
Assistant Managing Editor
Nick is a Cajun Country native, and is often asked why he doesn't sound like that's the case. His love for his wife and daughters is almost equaled by his love of gasp-for-breath laughter and gasp-for-breath horror. A lifetime spent in the vicinity of a television screen led to his current dream job, as well as his knowledge of too many TV themes and ad jingles.
Your Daily Blend of Entertainment News
Thank you for signing up to CinemaBlend. You will receive a verification email shortly.
There was a problem. Please refresh the page and try again.