How George R.R. Martin Feels About Game Of Thrones Ending Before His Books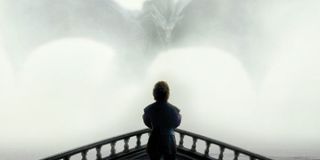 It's been an ongoing debate about whether or not HBO's Game of Thrones will ruin the ending for George R.R. Martin's A Song of Ice and Fire novels. The fantasy series has no issue in deviating from the author's original text, and in the later seasons has changed the story lines in major ways, but there are still thematic similarities. As the show progresses though, and speedily does so, it has become more clear that Martin's final novel in his book series will not hit the shelves prior to a Game of Thrones series finale-- and from the sound of it, Martin really isn't worried.
At the Sasquan science-fiction convention this weekend, George R.R. Martin held a Q&A after reading a chapter from his upcoming The Winds of Winter. The novel will be the sixth book in the A Song of Ice and Fire series, which is expected to be at least seven volumes before wrapping up. With the rate of Martin's writing, and HBO's Game of Thrones said to end at Season 8, the series will most definitely wrap up before the books are even near finished. But while Martin holds to the answer that "anything is possible" here's why he doesn't want his fans to worry (via Geekwire):
Just last week, Martin admitted that he had not written the ending of his story quite yet, but he did have an idea for the tone and style that he wanted to leave it on. While the show has strayed away from some of Martin's story lines, and won't include some characters that will pop up in the upcoming novels, we do know that showrunners David Benioff and D.B. Weiss have sat down with the author to discuss the trajectory of both. Now, as we see the two differing in more extreme ways, it becomes particularly important to Martin to point out that he's going to tell his story, and they are going to tell theirs. There are obviously major overlying themes and plans that all three have discussed in depth but Martin is stepping further away from the HBO series. He no longer is writing any episodes, and wants to push his focus entirely onto his A Song of Ice and Fire novels.
While fans of the novels will be aware of the changes in Game of Thrones far more, Benioff and Weiss have been successful in their run of adapting George R.R. Martin's world thus far. And with the enormous popularity of the TV series, viewers are bound to return, even if Martin's influence isn't as prominent. Whether the series will continue to hold the high critical acclaim without it, we'll just have to see. Game of Thrones Season 6 will likely premiere Spring of 2016.
Your Daily Blend of Entertainment News