How Harvey Dent Will Be Different On Gotham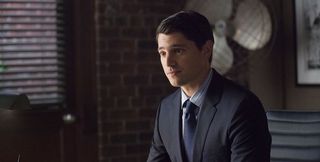 Gotham prides itself on featuring younger versions of Batman's iconic rogues gallery, before they went off the deep end, put on costumes and started terrorizing the seedy city. Next week will be no different when Harvey Dent, a.k.a. the future Two-Face, is introduced to the Batman prequel. At this point in his life, Harvey is a crusading assistant district attorney who forges an alliance with Detective James Gordon. However, while Gotham's Harvey may share similarities with previous Harvey Dent adaptations, the show is making sure to deliver audiences a unique version of the character.
While speaking with Entertainment Weekly, actor Nicholas D'Agosto discussed how Gotham will be able to explore Harvey's origin story in ways that have never been done before. Although he will be assisting Gordon with solving the Wayne murders, the show will address Harvey's darker nature, much of which stems from the abuse he endured as a child from his father. However, D'Agosto was quick to point out that while these "darker tendencies" will be foreshadowed, they won't be the driving force behind the character.
While the idea of Harvey struggling with inner turmoil isn't an original idea, Gotham has the benefit of exploring Harvey in a way that wasn't possible with the movies. The series will be able to follow his rise to power through the Gotham City legal system and his fight against crime and corruption, while simultaneously fighting his dark urges. It's possible that his inner demons may eventually affect his ability to do his job, but considering that he eventually becomes the city's district attorney, he'll likely be able to keep things bottled up for the most part during Gotham.
Of course, Harvey will eventually turn to the dark side and become Two-Face after half his face is scarred by acid. When asked by the outlet whether the duality-obsessed villain would emerge this season, D'Agosto implied that we'd only be seeing Harvey for the next few seasons, although he would be eager to tackle Dent's alter-ego.
Like he said, Gotham has taken some liberties with the ages and backgrounds of its characters, but there hasn't been any indication that most of the villains will latch onto their respective gimmicks and become supervillains before Batman shows up. (Penguin being one of the few exceptions.) It's especially important that this doesn't happen to Harvey.
One of the most important aspects of Harvey Dent's past, as seen in stories like The Long Halloween and The Dark Knight, is that before he was scarred, he worked with Gordon and Batman to root out organized crime in Gotham City. If this alliance is glossed over in favor of giving the viewers Two-Face early, it destroys a crucial part of the character. Keep this charismatic public defender on the side of good in the series, and leave the evil exploits for when the Caped Crusader shows up.
Your Daily Blend of Entertainment News
Connoisseur of Marvel, DC, Star Wars, John Wick, MonsterVerse and Doctor Who lore. He's aware he looks like Harry Potter and Clark Kent.