How I Met Your Mother Casts Martin Short For Recurring Role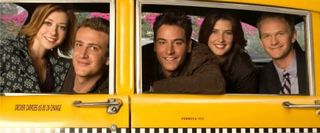 How I Met Your Mother ended last season with Jason Segel's Marshall being interviewed for his dream job at an environmental law firm. The interviewee was Kids in the Hall alum Dave Foley, and the character was such a success (and apparently so was the job interview) that they're bringing him back for Season 7...sort of. Foley's new pilot, How to be a Gentleman, was picked up, but not to worry: another high-profile Canadian comedian is stepping in to fill the void.
So, who is this mystery Canuck coming in to replace Foley? None other than Primetime Glick himself (or Uncle Jack, if you prefer), Martin Short. It seems that Vulture (opens in new tab) can "confirm that the SCTV alum will join the HIMYM cast next fall in a recurring, multi-episode role as Marshall's new boss." They aren't sure whether Foley and Short are pulling a full-Vivian swap or if Short will play an entirely new character. Either way, it's good to see him get some more comedic screen time (although his dramatic turn on Damages was quite good).
Just a side note: I really liked this show for a while. As much as I love the supporting cast (and can even put up with the laugh track and other sitcom pitfalls), there's something about Josh Radnor that rubs me the wrong way. I think it's because he's not funny. The rest of the cast -- Segel, Neil Patrick Harris, Alyson Hannigan, and Cobie Smulders -- are hilarious, but Radnor's Ted? Meh. And don't give me the "he has to play the straight man line," 'cause Jason Bateman does that all the time and still gets big laughs. Anyway, let's hope the addition of Short can at least add another funny character to counter-balance Radnor's lack of laughs.
How I Met Your Mother returns to CBS this fall, Mondays at 8:00 p.m. ET.
Your Daily Blend of Entertainment News