How Much House Of Cards Charged A Cellular Company For Product Placement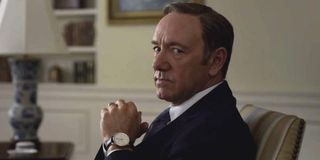 Product placement is rampant in the entertainment industry, with some instances being far more noticeable than others. But it's rare that we ever hear how much a company willingly shelled out so that characters on TV shows can use a device (or wear a particular outfit) for a hot minute. However, recently we learned how much mobile phone company OnePlus paid to get their phones into Season 4 of House of Cards. The number is a pretty big one. This week, reports indicate that OnePlus paid $300,000 so that Kevin Spacey's Frank Underwood and the rest of the characters would use the company's phones during episodes.
If you know anything about OnePlus, you may already know that it is a Chinese company that really doesn't do much business in the US, as the cell phone market is pretty much dominated by Samsung, Apple, LG and smaller players like Sony and Microsoft. The Verge reports that OnePlus shelled all that moolah out because they really want to be in that aforementioned list in the State. However, the US can be a tough nut to crack.
Still, $300,000 may seem like a lot of money to the average human out there. It is quite a lot of money to individuals, but less so to companies—especially to companies who are looking to expand outside of its current region or regions. When a company is signing on with Netflix that company is signing on with a worldwide brand. Thus, when you are advertising with Netflix, you are targeting audiences living in different parts of the globe. Plus it comes relatively cheaply when compared with what product placement can cost in the movies. Reports indicate that those memorable Heineken moments in the James Bond movie Skyfall actually cost the beer company around $45 million dollars. Compared to that, 300K is positively cheap.
The better question is how does House of Cards' blatant product placement compare to a 30-second ad spot on TV? When you get down to it, the two things are very comparable. Big hits on network TV command hundreds of thousands of dollars—for one commercial. And that's even in a day and age when TV audiences are becoming more segmented. For instance, The Big Bang Theory brought in a whopping $326,260 for an adslot just a couple of years ago.
The weird thing, though, is that the OnePlus phones really aren't highlighted in a way that makes them noticeable on the series. I mean really, is this doing it for you?
Only time will tell if the advertising paid off, but at least now we know how much the company shelled out for it. Catch the product placement along with a slew of juicy moments in House of Cards Season 4, which is now streaming on Netflix. In addition, here's what else the streaming service has coming up.
Your Daily Blend of Entertainment News
Reality TV fan with a pinch of Disney fairy dust thrown in. Theme park junkie. If you've created a rom-com I've probably watched it.