Daniel Craig's James Bond Gets Roger Moore-Level Silly In This New Commercial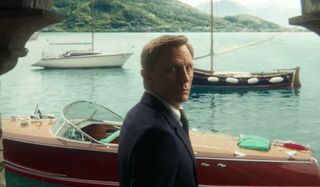 While Spectre brings back the villain syndicate that first appeared in the Sean Connery-led Dr. No, current Bond Daniel Craig is now doing his part to channel the Roger Moore-era of the 007 legacy. The star has filmed a new commercial for Heineken beer in which he attempts to flee baddies via a speedboat chase, and it comes with a touch of old-school comedy. You can watch the brief but funny clip below.
Daniel Craig reprises his role as James Bond for the ad, which sees the brilliant British agent being chased through the streets and onto a speedboat. From there, he takes the vehicle for a ride, but snags a woman suited up for water skiing and brings her along – somewhat accidentally. Coupled with Craig's cheeky remarks, it's something you'd expect from Moore's era of Bond.
Also, Moore has had his fair share of speedboat chases, such as the one you'll find below from Moonraker.
In his time as England's greatest spy, Craig has made Bond a much darker and more serious character than previous iterations. We haven't seen Spectre yet, but all signs point to another intense story, so this might be closest we'll see Craig get to a lighter time.
This isn't Craig's first foray into the world of advertisements – and not even his first time playing James Bond in the world of advertisements. In 2012, in promotion of Skyfall, the star was featured in another Heineken commercial. This one saw villains mistake a civilian for 007, and chase him through a train filled with revelers and Russian trainmen obsessed with building house of cards. Then there's a nice little cameo from Bond girl Bérénice Marlohe, as well as a moment with Joseph Wiseman as classic Bond villain Dr. No.
Spectre is directed by Sam Mendes and continues the story the story that has been unfolding since Martin Campbell's Casino Royale. Picking up where Skyfall left off, the movie features Bond setting out on his own to pursue a personal mission. Specific plot details are still a mystery, but what is known is the presence of a mysterious organization known as Spectre, which points to the famed villainous syndicate from films past. Also starring in the film are Christoph Waltz as the villain Oberhauser, Dave Bautista as Mr. Hinx, Blue Is the Warmest Color's Léa Seydoux as Madeleine Swan, and Monica Bellucci as "Bond woman" Lucia Sciarra, as well as the returning Ralph Fiennes as M, Naomie Harris as Moneypenny, and Ben Whishaw as Q.
Spectre will hit theaters on November 6th.
Your Daily Blend of Entertainment News
Thank you for signing up to CinemaBlend. You will receive a verification email shortly.
There was a problem. Please refresh the page and try again.