How Nurse Jackie Almost Ended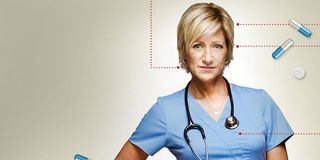 Spoilers abound in this article if you haven't caught last night's series finale of Nurse Jackie. Everyone still here? Alright, let's go!
Nurse Jackie ended a lengthy seven season run on Showtime last night, and the series ended with a bit of a cliffhanger. However, the scene at the end, which featured Jackie snorting heroine and collapsing as her co-workers rushed to come to her aid, was not initially the planned ending for the character. While it was a deliberately muddled end, it wasn't supposed to be the outcome, at all. Recently, showrunner Clyde Phillips spoke out to explain the original vision for the frustrating but intensely caring character.
The half-hour ender was initially supposed to follow a fire. When the team was initially sketching out Season 7, the hospital was going to catch fire and Jackie was going to rush in to save the life of a heroin addict who was handcuffed to a bed. It was initially going to look as if Jackie had bit the dust in the fire, but Phillips told Variety that she would escape out of a small window and head to meet her co-workers, only to realize "she's free" and head in another direction. With a burning building at the forefront, the episode would have been less Jackie-centric than the team wanted and they chose to go in another direction.
Still, you can see the general frame of the original finale in the ending that we got. There was Jackie helping what seemed to be the same heroin addict, bathing the patient's feet and showing the genuine care she had always taken with her patients, even when she hadn't cared for herself. However, the finale's version of Jackie did succumb to her addiction again, rifling through the patient's clothing, finding a heroine stash and snorting it. While Jackie's eyes were open in the end, the outlook did not actually look that good. The closing scene was vague enough that we don't know whether or not Jackie managed to survive her ordeal, and that's exactly what the Showtime team was hoping for.
For seven seasons, Jackie was a character who struggled with addiction. Sometimes she briefly attempted to be sober, but more often she was using and looking for her next hit. In the interview, Phillips calls her a "train wreck" and says that it was time to let her go.
Seven seasons is a long time for any show to run—especially a show that's essentially about one character and her constant struggles with addiction. Nurse Jackie may not have ended on the perfect note for every fan, but it's nice to know the writers spent a long time figuring out her ultimate outcome.
Your Daily Blend of Entertainment News
Reality TV fan with a pinch of Disney fairy dust thrown in. Theme park junkie. If you've created a rom-com I've probably watched it.