Hung Producers Bringing New Supernatural Program To Showtime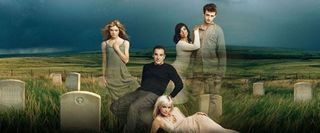 A few years back, Showtime produced a strange and short-lived supernatural series called Dead Like Me that was eventually told a third season would not work due to problems with the program and its network. The show featured former humans who were given second chances as grim reapers and was a pretty successful endeavor for Showtime at the time. Now, the network is taking a second look at the dead coming back to life, but are doing so in a very different sort of manner.
Unfortunately, Dead Like Me is not being given a second shot, so if you were hoping for anymore straight to DVD movies, today is not your day. Instead, Showtime is developing a brand new series with a slightly different supernatural premise. The new project, titled Sleep No More will follow a small town plagued with an interesting problem: life is being returned to formally dead inhabitants. Hung co-creators Dmitry Lipkin and Colette Burson are the husband and wife team behind the endeavor, with Fox 21 set to produce the thriller.
Fox 21 productions have kind of been on a role the past couple of years, putting together such winners as the critically acclaimed Homeland and FX's popular series Sons of Anarchy. With only the basic information on what Sleep No More will entail, it's difficult to decipher whether the newest Fox 21 production will fit in with its big brothers, but at least it has a pretty good pedigree to back it up.
Your Daily Blend of Entertainment News
Thank you for signing up to CinemaBlend. You will receive a verification email shortly.
There was a problem. Please refresh the page and try again.