I Hate My Teenage Daughter Pulled From Fox's Tuesday Night Lineup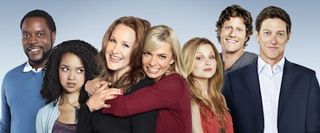 The one thing I liked about Fox's I Hate My Teenage Daughter was its time-slot. With Glee on hiatus, Fox had a two-hour comedy block set up on Tuesday nights, with Daughter airing at 8:30 p.m. So, after Raising Hope wraps up, I switch over to ABC for Cougar Town, then return to Fox for New Girl and Breaking In. This little bit of channel hopscotch offered me a nice couple of hours of funny, and it allowed me to avoid the less-than-funny Daughter, which was clunky and felt ill-suited among Fox's other comedies. So this latest bit of news won't affect my own viewing habits, however those who were enjoying the comedy may be disappointed.
Fox had planned to air new episodes of I Hate My Teenage Daughter up until April 3rd, after which it was being pulled from the air until the summer, rather than airing after American Idol as originally planned. Glee is set to return to Tuesday nights the following week, occupying an hour of that two-hour comedy block, so a shift in the schedule was inevitable. But now it looks like Fox doesn't want to wait until then to pull Daughter from the schedule.
According to Deadline, Fox is pulling Daughter from the schedule, effective immediately, and will air Raising Hope reruns in its place on Tuesday nights, after which the leftover Daughter episodes will be aired during the summer.
While no official announcement on the status of I Hate My Teenage Daughter has been made regarding the series' second season, given the ratings (last night's ep earned a meager 1.2 among adults 18-49), and the fact that Fox would rather air a rerun of another show than new episodes of this one, the situation's looking grim for the comedy.
And since we're on the subject, things aren't doing so well for Breaking In, which earned a 1.3 rating for last night's episode. that's a shame too as Breaking In is a pretty solid comedy and definitely worth checking out.
Your Daily Blend of Entertainment News
Thank you for signing up to CinemaBlend. You will receive a verification email shortly.
There was a problem. Please refresh the page and try again.