Idol Mentor Shania Twain Would Make A Great Judge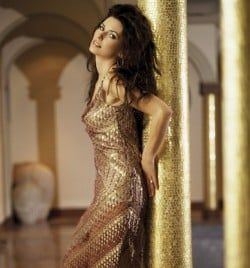 I can't help it. I think Shania Twain is angling for a job on American Idol. She had a blast sitting in for Paula Abdul in the earlier rounds and actually seemed to be lobbying for the permanent position. Now, she's back as the celebrity mentor this week, and apparently the theme as well, according to Zap2It.
I think an all-out country theme would be better. It would fit better the addition of Rascal Flatts and Lady Antebellum to the results show roster.
But back to Twain. She actually did a really good job of judging during the audition rounds, and if she's at a point in her career where she'd like to settle down to a regular gig like judging Idol, I'd say the show would be damned lucky to have her. Twain broke the mold when it came to country music, adding sex appeal to a genre steeped in traditional views on how women should dress.
She also broke the barrier between pop and country in a serious way, garnering accolades and smash hits on both charts. In other words, the woman knows what it takes to be a superstar in the music industry, and has been able to do so for years now. She's had far more success than Abdul ever had.
As much as I love Ellen DeGeneres, she really isn't bringing much as a judge this season. If a suitable "mean" judge can be found to replace the departing Simon Cowell, I'd love to see Twain replace DeGeneres on the panel. Or, have Twain go ahead and replace Cowell. She brings yet another type of music experience to the panel and has proven she can be honest with the contestants when need be.
Her catchphrase could be: "That don't impress me much."
Your Daily Blend of Entertainment News
Your Daily Blend of Entertainment News
Thank you for signing up to CinemaBlend. You will receive a verification email shortly.
There was a problem. Please refresh the page and try again.