Inaugural Critics Choice Television Awards Announce Nominees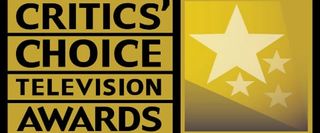 To be honest, I can't believe it's taken this long before the TV critics (sorry, the Broadcast TV Journalists Association) started handing out awards to recognize the best work in television and sway the Emmys, even if just a little bit. Yes, siblings with the Broadcast Film Critics Association, the BTJA will be hosting their first ever Critics' Choice Television Awards and the nominees are...
Well, hold on. Just want to get a few details out of the way before we jump right into the nominees... The Critics' Choice TV Awards will air on REELZCHANNEL (a name so unbelievable they had to ensure you in the title that the channel is real... sorry, reelz... yo) on June 22 at 8 p.m. ET (repeating at 11 p.m. and 2 a.m.). The awards will be hosted by So You Think You Can Dance's adorable Cat Deeley, who also snagged a nomination as best host. You can also catch an exclusive live stream of the awards show on June 20 on VH1.com.
So, yes... back to the nominees. The Awards honor programs and performances that aired between June 1, 2010 and May 31, 2011 sadly making one of the best shows on TV, Breaking Bad, ineligible for competition because of a fourth season delay (Heisenberg would not be pleased). However all the other stalwarts are there in their respective categories BUT we do want to mention a few surprises...
It's great to see Fringe get some love, finding a spot amongst nine other stellar shows (well, eight others and The Walking Dead) to compete for best drama. I'm also excited with the entire best comedy category with a slew of great, and deserving names, compiling the list, from heavy-hitters like 30 Rock to small timers like The Middle (our vote goes to Parks and Rec... but they are all worth your time).
Here is the official release with the list of nominees...
Your Daily Blend of Entertainment News
Thank you for signing up to CinemaBlend. You will receive a verification email shortly.
There was a problem. Please refresh the page and try again.