Jane Fonda, Lily Tomlin's 'Grace And Frankie' From 'Friends' Creator Heads To Netflix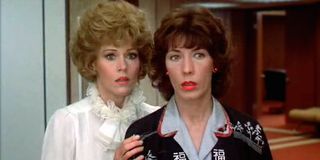 File this one under "ohmygodthissounsdamazing!": Friends creator, writer, and executive producer Marta Kauffman has done it again, crafting a comedy we're fairly excited about. Grace and Frankie. An original comedy series from Kauffman and Howard J. Morris, has received a 13-episode first season order from Netflix. Oh, and in case you weren't sure whether or not to be excited about it, the show will star two of its executive producers — you might've heard of them before? — the incomparable Lily Tomlin and Jane Fonda.
That's right, the gals from 9 to 5 (that's where we got that picture from, above) will reunite for the Skydance Production, where longtime rivals are "brought together by a rather unusual change in their marital circumstances," according to a press release from Netflix today.
The single-camera affair will follow Grace (Fonda) and Frankie (Tomlin) as they go, it seems, from enemies to frenemies. Facing the "last chapter of their lives," the women are shocked when their husbands confess they are actually in love with each other and plan to get married. Things, as you can imagine, go topsy-turvy from there as the two women find their lives intertwined forever, forcing them to look to each other, surprisingly, for support.
The half-hour comedy will star the incredibly accomplished ladies who, really, need no introduction. But just in case you were unaware of the myriad talents, allow us to set the record straight for you. Fonda, in addition to recently guest starring on HBO/Aaron Sorkin's The Newsroom, has had a career for the ages. Her credits include Lee Daniels' The Butler, Nine to Five, Coming Home, Barbarella, and many more. She's won two Oscars in addition to numerous Emmys, Golden Globes, Ton Awards, BAFTAs, and more.
As for accomplished comedian Tomlin, the Oscar-nominated funny lady also has an Emmy under her belt for the HBO film An Apology to Elephants in addition to several Tony Awards, Emmy Awards, Peabody Awards, and even the prestigious Mark Twain Prize for American Humor. She's been featured in such things as I Heart Huckabees, Lisa Kudrow's web series Web Therapy, Damages, The West Wing, and was even the voice of Ms. Frizzle from The Magic School Bus. Ms. Frizzle!!
"Jane Fonda and Lily Tomlin are among the funniest and most formidable actresses ever and it's an incredible privilege to give them the opportunity to run riot on Netflix," said Ted Sarandos, Netflix Chief Content Officer. "The show created for them by Marta and Howard is warm, very funny and anything but wholesome. We can't wait."
"Netflix is redefining the way we produce and consume television and it's a true privilege to be in business with Ted and his amazing team," said David Ellison of Skydance. "Working with the wonderfully talented Marta, Jane, Lily, Howard and their producer Paula Weinstein is a dream come true, and the story they have crafted is both hilarious and heartfelt."
Gosh, we are just so excited about this.
Your Daily Blend of Entertainment News
Thank you for signing up to CinemaBlend. You will receive a verification email shortly.
There was a problem. Please refresh the page and try again.