Jason Mesnick is Next Season's Bachelor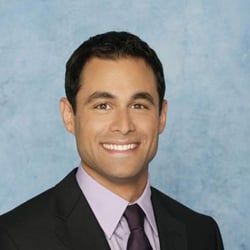 Jason Mesnick, the fan-favorite runner-up for Bachelorette DeAnna Pappas' affections, will have his pick of 25 women starting in January 2009.
After losing out to Jesse Csincsak in the July finale for The Bachelorette, Mesnick was on host Chris Harrison's short list to star in the next installment of The Bachelor. In post-show interviews, Mesnick stated that he'd definitely be interested in the opportunity if asked, so this almost seemed to be a foregone conclusion. Nonetheless, I've heard nothing but surprised and delighted squealing from my fiance, her mom, and several friends since the announcement was made.
In fact, my fiance is so excited that Mesnick will be the next Bachelor that I had to chain her to the bed to keep her from trying out to be one of the bachelorettes. It's bad enough that I had to hear her gush about how sweet the guy is and how much he loves his son for an entire season of The Bachelorette, now I'll have to hear all about for the duration of The Bachelor, too.
Honestly, it's awesome that the guy loves his son so much, even going as far as saying that he wasn't sure he'd do The Bachelor if it meant taking time away from his son. Luckily for his fans, after Mesnick told press that spending time with his son, Ty, Harrison made it clear that would not be an issue, even going so far as hinting that filming may take place in Seattle and/or he may even babysit Ty himself.
Mesnick divorced two years ago and has custody of 3-year-old Ty. He has a Psychology degree from the University of Washington and works as an account executive in estate and legacy planning. His interests include traveling, swimming, golf, basketball, and football, going as far as once being a golf professional. In his free time, he volunteers as a big brother with Big Brothers/Big Sisters of America. He also enjoys long walks off short piers and woman who confuse his name with that of Johnny Reznick of the GooGoo Dolls.
He is looking for a woman who "has a real curiosity about the world, who loves life and can find passion in life's smallest moments."
Women who think that they fit this description, or just want to be on TV and/or make out with Mesnick, should go to the official Bachelor website to find information on casting events.
Good luck to you, Jason Mesnick, in your very very public search for love. May you find what almost no other contestant on these shows has found, but you best stop making googly eyes at my woman.
I'll be watching you, Mesnick.
Your Daily Blend of Entertainment News
Thank you for signing up to CinemaBlend. You will receive a verification email shortly.
There was a problem. Please refresh the page and try again.