Jennifer Esposito Cut From Blue Bloods Season 2 But Fires Back At CBS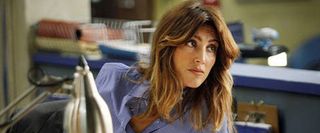 When Blue Blood actress Jennifer Esposito told CBS she needed to cut down her hours on set, the network acquiesced by cutting her from the show completely. Technically Esposito's character, Detective Jackie Curatola, will go on a "leave of absence" from the unit, starting after the November 2 episode airs. The actress has already finished filming on the show.
The background is that Esposito suffers from celiac disease. She says her doctor ordered her to cut down on hours and CBS is maintaining that to make that work for the actress' character, they had to cut her out until further notice. On Saturday, when Deadline first reported the news, CBS was simply stating Esposito's demanded work schedule would clash with what they needed her for.
According to Esposito, that's not even half the story. The actress fired back at the network on Twitter, spending part of Saturday explaining the situation. Esposito alleges her doctor simply said she needed to have reduced hours on set due to celiac complications and she feels the network should have been a little more understanding. Various postings on the social networking site get to the meat of what the actress feels is the problem.
From what CBS has stated, Esposito seems to be going a little over-the-top with her rant. Sure, it sucks to be told no, and the actress would certainly not have wanted to cut back on her hours unless she was ill. However, she plays lead actor Donnie Wahlberg's partner on the show. Her role is super important, and if she can't be there every week, the writers would have one hell of a time trying to figure out an alternative. It would be different if she were playing someone's wife or the office manager detective, etc. but that's not the way the cookie crumbled. Esposito's needs have put both parties under strain, but CBS seems to want to bring the detective back if she can handle the schedule. After the Twitter outbreak, I'm not sure the offer will still stand.
Reality TV fan with a pinch of Disney fairy dust thrown in. Theme park junkie. If you've created a rom-com I've probably watched it.
Your Daily Blend of Entertainment News
Thank you for signing up to CinemaBlend. You will receive a verification email shortly.
There was a problem. Please refresh the page and try again.