Jennifer Lopez Overexposure Is TiVo's Most Watched Oscar Moment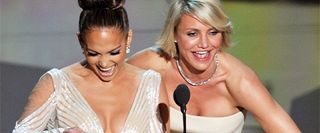 What was the most watched and re-watched moment of this Sunday's Oscar broadcast according the TiVo's records? Was it Meryl Streep's win for Best Actress? Silent film The Artist pulling Best Picture? No, it was, in fact, a potential peek at Jennifer Lopez's nipple as she presented an award few people really care about.
Word apparently spread that J. Lo pulled a Janet Jackson on a smaller scale and made visible a hint of nipple during her presentation alongside Cameron Diaz for Best Costume Design and Makeup. It caused the re-playing of the scene on TiVo to spike above some of the show's other big moments, proving once again that the vast majority of the Academy Awards show audience cares less about the craft of filmmaking than about gawking at the stars. Deadline reports that TiVo's count came in at 14.1% more views for this great moment in Oscar history than the average for the rest of the show.
The next most interesting moment according to TiVo was the presentation of the Best Documentary statue by Gwyneth Paltrow and Robert Downey Jr. As far as I can tell, there's no sign of a Paltrow nipple, so I'm not sure how this one came in above moment number three, which was Meryl's big win for Best Actress. TiVo counts how many times any particular moment in a show that has been recorded is played and re-played, and reports which moments come in at the top. Of course, this count is just for TiVo viewers, but let's not pretend the rest of the Oscar-viewing world is above trying to catch sight of J. Lo's private parts.
Your Daily Blend of Entertainment News
Thank you for signing up to CinemaBlend. You will receive a verification email shortly.
There was a problem. Please refresh the page and try again.