Jersey Shore Cast Members To Appear On MTV Hurricane Relief Special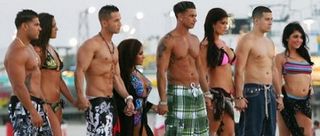 MTV is gearing up to help the hurricane ravaged town of Seaside Heights, New Jersey, the same town made famous by Snooki and her pals on Jersey Shore. The network is putting together a fundraising special to air on November 15th which will feature stars from the reality series as well as other special guests, with all proceeds going to rebuild Seaside Heights and help locals get back on their feet.
Restore the Shore will be a one-hour television special that will feature as-yet unnamed cast members of Jersey Shore and others helping to raise money for hurricane victims. Specifically, the money will go towards rebuilding Seaside Height's boardwalk as well as to local businesses and residents in need. Hurricane Sandy tore through the New Jersey shore last week, and Seaside Heights was among the hardest hit areas, seeing homes and businesses completely destroyed. The town was famous for being the location of the beach house where the cast of MTV's hit show partied, argued, and hooked up. That house survived the storm intact.
MTV is partnering with Architecture for Humanity, according to Deadline, a non-profit group that helped rebuild after the 2010 earthquake in Haiti as well as after Hurricane Katrina devastated New Orleans and surrounding areas. MTV will take donations throughout the special as well as afterwards via online and mobile options. More details on the special guests are expected to be released soon.
Restore the Shore will air live on the east coast on November 15th at 11:00 PM ET, and will air on a tape delay on the west coast.
Your Daily Blend of Entertainment News
Thank you for signing up to CinemaBlend. You will receive a verification email shortly.
There was a problem. Please refresh the page and try again.