Jersey Shore Watch: A Thin Line Between Smush And Hate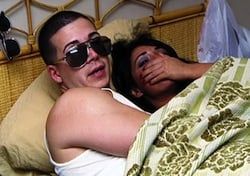 Previously on The Jersey Shore: A letter was written. Literacy was upheld. Snooki smushed Vinny...which I think means she sat on him. Literally. Figure it out. Sammi and JWoww had it out. JWoww got all testosterone-y and threw an elbow or three. Which brings us to...
This week: Everyone piles on the battling Amazons. It's a flurry of spittle, broken nails, and hair extensions, which means RuPaul probably had a slumber party. Ronnie and The Situation somehow tag in and shove each other, for reasons unknown. Everyone goes to their respective corners. The truth comes out, Snooki admits to writing the letter, and then everyone just yells again. Snooki is wearing a two-tone megaprint dress-shirt thing, which makes her look like a black and white cookie with pumpkin filling. Angry, angry pumpkin filling. JWoww heads out for a cigarette and looks more and more like Harvey Keitel with every passing second. Sammi and the boys clean the kitchen, until JWoww enters and takes another swing at the boys. I sort of wonder what JWoww's drag queen name would be...no, no I don't. It's JWoww. Anyway. Sammi brags to the boys about her newfound pride in beating the crap out of a fellow girl. Well, 3/8 of a fellow girl. Tonight's episode is apparently sponsored by Taco Bell. Run for the Border, Miami. We're so sorry.
The next day: JWoww calls out of work at the gelato hut because she has to get her nails fixed (...really?). Pauly and Vinny sunbathe together. The camera pans away before we see them reenact the juicier bits of 300. Then, cut to the beach. The boys fraternize with the ladies. Pauly spots a herpes sore on a young lady from 150 paces. "Nothing like a herpes sore to ruin a party," Pauly tells us, thinking wistfully of his christening.
The Sitch and Angelina chat about Vinny. Angelina calls him ugly, and maybe says he looks like Demi Moore in GI Jane. Or maybe I said that. Anyway, methinks the guidette doth protest too much, know what I'm sayin'? Her man-friend Jose shows up and gives her a number of gifts, including a watch. Everyone's amused. I think he needs a green card. I am concerned. Vinny and Sammi have a jacuzzi-side conversation. Vinny blames Angelina for being the criminal mastermind behind the note. Oh, Vin. I'll draw you a diagram later. Sammi doesn't know what to think and blinks 4200 times before falling over and shorting out in a pile of fried circuitry and regret. Pauly and Angelina have a brief conversation about Jose's right to "hit that" after giving the poor girl a watch. Fair warning, Jose: it hits back.
Clubbing time: everyone plays pool. Snooki hugs The Situation, which is sort of like getting caught inside a vice made of cheetos. The girls decide to hate Angelina again, because the tide changed or the stars realigned or Snooki saw her shadow. Next day: The girls hit the beach. Snooki announces her racial identification as "tan," which gives me some sort of rage stroke as I black out. When I come to, the house is having a heated chat about gossip and anger. Angelina and Vinny call each other shady, chat cordially about balls, and then Angelina coins the term "dirty grenade," which I'm pretty sure was the original title of Black Hawk Down. These two hate each other--naturally, it means they'll be having sex, as many times as possible, in the smallest room possible, before we know it.
Hot-tub time. The boys remark that Ronnie made off scot-free with Sammi, and then note that Ronnie "sort of peed" on Sammi. I really hope that's a metaphor. I really, really do. Club time 2: Vinny meets a girl named Ryan, which is a dude's name, but it's Vinny, so, hey, baby steps as we mosey towards the closet door. Meanwhile, Snooki grinds against a young DJ as they "dance like Spanish people" which totally confuses me. Does it involve bullfighting? Folding fans? Arroz con Pollo? I hope so. They hook up in Snooki's bed, under what looks like a moving pad. JWoww's in the next bed, and recounts the whole conversation/snog, which is about forty percent Jane Austen novel and sixty percent Wild Things. Snooki later says she didn't "smush" on the first night. I don't have anything to say to that, other than to make a high-pitched, timeless noise of mourning.
The next day: everyone's hung over and pissy, meaning it's probably one of those days that end in -day. Sammi's got her Clark Kent glasses on, and identifies JWoww as crazy. Those glasses are definitely improving your perspective, S. Angelina has a phone chat with Jose. She calls him daddy. This...explains so much. The crew heads out...again. Snooki invites Dennis, her one-night smush, over, and proclaims to the house that she's "gettin' it in tonight!" Please, Snooki. At this point, it's like driving a minivan into the Grand Canyon. Dennis calls her "mommy" on the phone. I think Dennis and Jose need to meet and work out their parent issues before canoodling with any of these bronze-hued Petri dishes, but hey, that's just me.
Dennis shows up with a guy for JWoww named Marco, who is described as a "grenade-grundel-choad." Enchanting. JWoww kicks him to the curb and Snooki gets to work re: Dennis. Which means exactly what you think it means. The rest of the gang clubs and grinds and voms a little bit...and then everyone looks away for a second. And when they look back--VINNY AND ANGELINA ARE GOING AT IT. It's intense. And gross. It's like one of those nature specials about those monkeys who doink all the time and just can't help themselves. "Hey, that's really screwed up," the monkeys say to me, clearly offended by the comparison. Pauly reminds us that Vinny christened Angelina "The Staten Island Dump." Well, I guess this means Vinny's down in the dumps...
Get it? Get it?
...
Next week's haiku:
Vinny. Angelina.
Let's talk about it. A lot.
Syphilis? No joke.
See you this weekend for the special, pre-VMA episode, friends. Remember: If you can't smush the one you love, smush the one you're with. Ciao!
Your Daily Blend of Entertainment News
Thank you for signing up to CinemaBlend. You will receive a verification email shortly.
There was a problem. Please refresh the page and try again.