Jessica Jones Is Changing The Gender Of One Of Its Comic Book Characters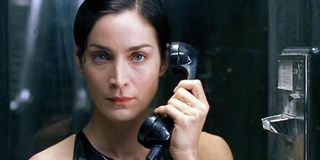 Thus far, Marvel Studios has done a commendable job in bringing many of their characters to life in the Marvel Cinematic Universe largely unchanged. However, the reveal of the character played by actress Carrie-Anne Moss in the upcoming series Jessica Jones will see that trend shake a bit, as it turns out that she will be playing a gender-swapped version of a male lawyer from the comics.
According to Buzzfeed, at New York Comic Con this weekend it was announced that Moss would portray comic book character Jeryn Hogarth in Netflix's Jessica Jones. Fans of the comics will know that Hogarth is a lawyer – as well as a businessman – who works with Iron Fist. Especially astute fans will recognize that this represents a fairly substantial shift from the source material, as the character of Hogarth has consistently been portrayed as a male character over the years.
This could prove to be a potential trend for Marvel Studios going forward. Just a few months ago they announced that actress Tilda Swinton will portray The Ancient One in Doctor Strange – a character also typically portrayed as male. However, that situation differs somewhat from Moss' portrayal of Hogarth as Swinton's take in the Scott Derrickson-directed feature, as it has yet to be revealed if Swinton will portray a male or female version of the character. Hogarth represents one of the few – if any – instances where Marvel has swapped genders in transferring a character from page to screen.
Such a decision could also come as a result of the cry for more diversity within the Marvel Cinematic Universe. Having established a fairly consistent trend of white male heroes, the studio has begun branching out to feature a stronger variety of characters. It has already been established that Black Panther will add some racial diversity to The Avengers roster with his solo film, and rumors have persisted that Miles Morales, the half-black/half-hispanic Spider-Man from Marvel's Ultimate comics, could eventually show up in future Spider-Man movies. Changing the gender of Hogarth could effectively add a strong female character to a somewhat sparse pool.
Details about Carrie Anne-Moss' role remain shrouded in secrecy for the most part at this point, so there's very little else to go off of in terms of what to expect from the adaptation. Purists of the comics may take umbrage with the decision to change a character, while others may find it refreshing to see a new take on an old idea. As long as Hogarth remains true to the source material, then the decision should not make too many waves. Only time will tell, but the more details we get about Jessica Jones, the more excited we get about it.
The entire first season of Jessica Jones – featuring Moss' Hogarth – will hit Netflix on November 20, and we can hopefully expect to see more of her in the eventual Iron Fist series.
Originally from Connecticut, Conner grew up in San Diego and graduated from Chapman University in 2014. He now lives in Los Angeles working in and around the entertainment industry and can mostly be found binging horror movies and chugging coffee.
Your Daily Blend of Entertainment News
Thank you for signing up to CinemaBlend. You will receive a verification email shortly.
There was a problem. Please refresh the page and try again.