Jimmy Fallon's First Tonight Show Guests Include Justin Timberlake, Michelle Obama, More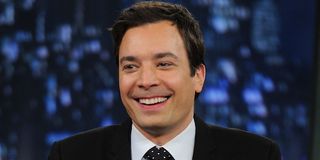 Jimmy Fallon's first week behind the desk of The Tonight Show will play host to a bevy of impressive guests during his premiere week run hosting the NBC late night series. And with some of his close friends and favorite guests on track to appear, there may just be a few tricks up his sleeve to make the introduction to the Fallon era of the show more memorable. And there might just even be another "History of Rap" in our future.
Previously announced were Fallon's first show guests — Will Smith and the band U2 — who will appear on the show Monday, February 17th. Following that a seriously impressive roster is slated for the inaugural week, set to air at midnight (since, you know, Olympic coverage and all that) that might just have you saying "Jay who?" The list of names includes First Lady Michelle Obama, Jerry Seinfeld, Lady Gaga, and to top it all off: Justin Timberlake, who will have the entire Friday, February 21st show to himself as guest and musical act. Say it with us now, America: ooh yeah.
As is often the case when Timberlake and Fallon get together, musicomedy magic happens. Previous appearances on Fallon's Late Night have included four "History of Rap" segments, which have quickly become fan favorites as well as viral hits. No doubt whatever the duo break out for the host's big first week will have to top all of those.
Additional guests include Bradley Cooper, Kristen Wiig, Tim McGraw, Will Ferrell, and Arcade Fire. The full line-up is below:
Monday, 2/17: Actor Will Smith and musical guest U2
Tuesday, 2/18: Comedian Jerry Seinfeld, actress Kristen Wiig, and musical guest Lady Gaga
Wednesday, 2/19: Actor Bradley Cooper and musical guest Tim McGraw
Thursday, 2/20: The First Lady of the United States Michelle Obama, comedian Will Ferrell, and musical guest Arcade Fire
Friday, 2/21: Musician Justin Timberlake
I suppose its safe to say — at this point — that the relocation of the show to New York City from Los Angeles hasn't affected their ability to nab great guests, even when competing with other New York based shows like The Late Show with David Letterman and Fallon's predecessor, Late Night with Seth Meyers.
The Tonight Show with Jimmy Fallon is set to launch following Sochi Olympics coverage on midnight February 17th, with subsequent episodes through the 20th also airing at that time. Fallon's Timberlake-centric show on the 21st will find the series airing in its regular time slot, 11:35PM.
Check out this video compilation of Fallon and Timberlake's four previous "History of Rap" segments to get yourself excited for their impending reunion. Feels good, doesn't it?
Your Daily Blend of Entertainment News