Joel David Moore Will Guest Star On TBS' Men At Work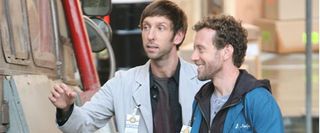 Bones features a cast of revolving interns, each with his or her own quirks and talents. One of the weirder "squints" is Colin Fisher (Joel David Moore), who takes morose geekdom to a brand new level. Along with Bones, Moore's other roles have often pitted him as more of an intellect than an athlete. We've seen him discuss the science behind Avatars and suck at dodgeball, but we've never seen him take on an editor position before.
Now, Moore is headed to TBS, where he will act in a guest starring capacity on Men At Work. According to TV Line, the actor is set to play an editor at the magazine where the boys work. His character, Doug, will be tasked with dealing with the four friends when they have a staff meeting where every word spoken must come from a popular song lyric.
The 34-year-old actor never seems to have any trouble finding work, but I'm hoping with a few more guest stints, a starring TV role will work out for the man. As much as I would miss having Fisher around a couple of times a season on Bones, Moore is absolutely underutilized on the show. For the guy who was supposed to play opposite Zachary Levi in Let it Go before the pilot was scrapped, Men At Work may be a consolation prize, but a guess stint can never compare with getting an extended gig. Here's to hoping we hear some meatier casting news on Moore's end soon.
Men At Work airs Thursday on TBS at 10 p.m. ET.
Your Daily Blend of Entertainment News
Thank you for signing up to CinemaBlend. You will receive a verification email shortly.
There was a problem. Please refresh the page and try again.