How To Watch A Christmas Story Streaming And On TV - December 2020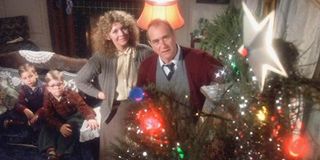 CinemaBlend participates in affiliate programs with various companies. We may earn a commission when you click on or make purchases via links.
As is the case for millions of people around the United States, one of my holiday traditions is to sit around with my brothers and see how many times we can watch A Christmas Story during the annual TBS/TNT 24-hour marathon of the 1983 classic. But what if I don't want to wait until Christmas Eve to see Ralphie shoot his eye out, hear Mr. Parker yell at the Bumpus' dogs, or watch Mrs. Parker stick a bar of soap in her mouth after her son said a certain four-letter word? There has to be a place where I can watch A Christmas Story streaming, right?
You bet! And you don't need a decoder pin to find out where, either. If you don't feel like waiting for the annual marathon or won't have the time considering all the great movies that will be released on streaming services like HBO Max and Disney+ over the holidays, there are plenty of places where you can watch Ralphie beat the mess out of Scut Farkus, be there when Flick gets his tongue stuck to the pole, and even when that insanely terrifying mall Santa lets out a boisterous "Ho, Ho, Ho."
Where Is A Christmas Story Available Streaming?
Unless you have access to a cable service (more on that later) the only way to watch A Christmas Story streaming this year is to rent or buy a digital copy on Amazon and other similar online video services. Currently, a 48-hour rental of the 1983 timeless classic will set you back $3.99 and an all-out purchase will cost you $9.99. Unfortunately, you won't be to haggle down the price like Old Man Parker did at Christmas tree lot just before the tire blew out.
Will A Christmas Story Be On Netflix?
If Netflix really wanted to take over the Christmas movie industry, they would secure the rights to A Christmas Story, but until that happens, you won't be able to watch any of the hilarious vignettes from Bob Clark's adaptation of Jean Shepherd's In God We Trust: All Others Pay Cash. There are plenty of other holiday movies to enjoy on the streaming giant, though.
Other Ways To Watch A Christmas Story
There are still plenty of non-streaming ways to enjoy A Christmas Story for those who don't want to rent or buy the movie, but they do require a cable or satellite subscription. If you have a service like YouTube TV, you can go to your on-demand library and search for A Christmas Story to watch it in no time at all.
There is also the annual 24-hour marathon that plays on TNT and TBS starting Christmas Eve. 24 Hours of A Christmas Story begins Thursday, December 24 at 8 p.m. ET/PT and runs through Friday, December 25 at 8 p.m. ET/PT on TBS and TNT.
Those are all the ways to enjoy A Christmas Story this holiday season, whether it be streaming, on TV, and every other way to take part in the annual tradition of watching Old Man Parker turn on that "major award" before it comes crashing down.
Philip grew up in Louisiana (not New Orleans) before moving to St. Louis after graduating from Louisiana State University-Shreveport. When he's not writing about movies or television, Philip can be found being chased by his three kids, telling his dogs to stop yelling at the mailman, or yelling about professional wrestling to his wife. If the stars properly align, he will talk about For Love Of The Game being the best baseball movie of all time.