Watch The Walking Dead's Steven Yeun And Conan O'Brien Spa Together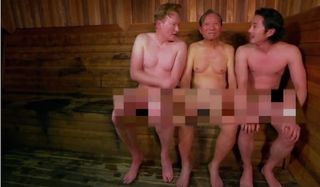 If they weren't friends before, they definitely are now as comedian Conan O'Brien and The Walking Dead star Steven Yeun stripped down to bare all together on a trip to a Los Angeles Korean spa. Watch the ten-minute segment of the duo's awkward day at the spa that aired on last night's episode of TBS' Conan, and be prepared to laugh at Conan screaming in pain.
It was a lengthy segment filled with an adorable old man caressing Conan's man-boobs, an evil Mr. Lee who scrubbed Conan so hard that he turned a peachy-pink, and room of Cocoa Puffs where a woman admitted that the towering red-head could not be trusted. Overall, Conan seemed a bit out of place. Ok, he was completely out of place, as the doofy pale-skinned Irishman stuck out like a sore thumb amongst a seemingly regular Korean crowd. And Steven Yeun, who admitted that he was far more afraid of getting naked in front of a bunch of strangers in a spa then battling zombies for a living on his AMC show The Walking Dead had at least been there once before. Plus he is Korean, so there's that.
But ow, that body scrub. Seriously, how is that even remotely therapeutic for anyone? And Jimjilbang. How is a sauna at over 200 degrees even legal? Obviously I was more concerned with how this place could be called a spa, the most relaxing part seemed to be when Conan laid in a pile of heated Cocoa Puffs, but hey, to each his own. I do wish we had seen a bit more of Steven Yeun though, as he pretty much placed himself as the sidekick to Conan throughout the segment. But, then again, Yeun's character, Glenn in The Walking Dead is often pushed to the side as well, leaving the spotlight to the leaders of the group. That being said, can we just take a second to imagine Conan taking on a zombie apocalypse. He'd probably try to talk them out of eating his arms and legs, all while they were trying to do it. Reminds me a bit of Andy Nyman's character as zombies tear him apart while he criticizes them in the 2008 British E4 horror series, Dead Set.
Speaking of Dead Set, if you are reading this, and are a fan of The Walking Dead and overall great zombie TV shows, this is one you need to go back and watch. The horror-drama created by Charlie Brooker (known for his recent hit series Black Mirror) is about a zombie outbreak that strands the cast and some staff of reality TV show, Big Brother in the house of the fictional series. It's super intense and has a bad-ass female lead, but it is pretty much what would happen if a zombie outbreak happened on set of a TV show. You can take a peek at the trailer below.
And make sure to catch the latest episode of The Walking Dead with Steven Yeun this Sunday at 9 p.m. ET on AMC.
Your Daily Blend of Entertainment News
Thank you for signing up to CinemaBlend. You will receive a verification email shortly.
There was a problem. Please refresh the page and try again.