John Larroquette Tapped For NBC Midseason Drama Infamous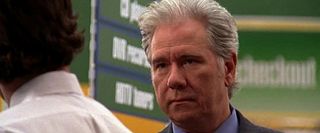 John Larroquette is about to be Infamous. He's signed on for a major recurring role in the new midseason drama from NBC that focuses on a wealthy family with some major secrets to hide, as well as the woman who infiltrates their ranks to find out the truth behind a murder.
Larroquette's role as Senator Dwight Haverstock will feature him in more than half of the episodes of the first season, according to Deadline. Infamous tells the tale of a female detective (played by Meagan Good) who started out as the daughter of a maid in the house of an incredibly wealthy family who had plenty of skeletons in their closet. She returns in an undercover role to the house she grew up in many years later. Her role is to attempt to finally solve the murder of heiress Victoria Lawson, her childhood friend.
Larroquette's character is described as a man with big appetites and a lot of secrets, which seems to be the perfect fit for the Emmy-winning actor. Playing a slimeball is something he's done pretty spectacularly in the past. Most famously, of course, would be the sleazy Dan Fielding on the long-running comedy Night Court, the show that made him a star.
Infamous also stars Victor Garber as the patriarch who was once best friends with Dwight Haverstock, as well as Tate Donavan (The O.C.), Wes Brown (Hart of Dixie, True Blood) and Marin Hinkle(Two and a Half Men) as members of the powerful Bowers family. The "opulent soap" is set for a 2013 premiere, but doesn't have a date set just yet.
Your Daily Blend of Entertainment News