Josh Lucas And Lynn Collins Cast In A&E's Occult Pilot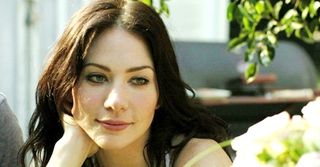 A&E's cast-contingent pilot Occult has finally found the two leads it needed to go forward with production. Picked up back in September, the X-Files-like drama project has found its stars in Josh Lucas (The Firm) and Lynn Collins (True Blood).
The duo will play a Mulder-and-Scully-esque team of FBI agents investigating cases for the new occult crimes task force, Deadline says. Lucas will play Dolan, an agent recently returned to work after a breakdown following the investigation into his wife's disappearance - more X-Files-like backstory here, only Mulder's obsession was with his sister's disappearance obsessed. Collins is on board to play Noa Blair, an agent whose specialty is the occult. She also has a complicated history, although at the moment we aren't being given any information on what that might be.
Josh Lucas starred in the short-lived legal drama The Firm last year. His film career has been more successful and includes American Pyscho and Sweet Home Alabama; more recently he appeared in the Nicolas Cage-starring movie Stolen. Lynn Collins' most recent TV appearance was on True Blood's first season. On the film side she appeared in last year's John Carter and Unconditional.
Occult comes from Michael Bay of the Transformers movie franchise. Adding to the strong feeling of similarity to The X-Files is the fact that a writer from that show, James Wong, is on board for A&E's take on the genre. He executive produces along with Bay, Andrew Form, and Brad Fuller of Platinum Dunes. With the project ready to start production , the biggest hurdle now will be putting a fresh face on a concept already done very well on both The X-Files and Fringe.
Your Daily Blend of Entertainment News
Thank you for signing up to CinemaBlend. You will receive a verification email shortly.
There was a problem. Please refresh the page and try again.