Joy Behar And More Are Returning To The View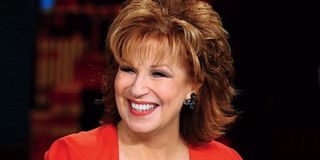 When The View returns to ABC for it's 19th season, the popular morning talk show will be bringing along a mixture of familiar faces and new additions. Headlining this incoming crew is Joy Behar, who, it was just confirmed, will return to her old stomping grounds as one of the co-hosts.
Deadline reports that Behar, who left the show after hosting Seasons 1 through 16, will indeed come back to her old gig, and she's not alone. In addition to Behar, Candace Cameron Bure and Paula Faris will also join the party as co-hosts. This is in addition to Whoopi Goldberg, Raven-Symone, and Michelle Collins, so yes, there will be six co-hosts.
Behar, who rose to prominence as a stand up comedian, originally appeared on the Barbara Walters-created The View on days when the legendary reporter was off, but eventually became a permanent co-host. She admitted that, especially with Hilary Clinton and Donald Trump in the current presidential race, she's excited to interject her opinion.
Candace Cameron Bure was the star of ABC's beloved family sitcom Full House, playing oldest daughter DJ Tanner, a role she's reprising in the upcoming Netflix spinoff Fuller House. Last year, she was also seen on ABC's Dancing with the Stars.
The host of the weekend edition of Good Morning America, Paula Faris has a background as a news correspondent and as the anchor of programs like World News Now and America This Morning on ABC.
In addition to the co-hosts for Season 19 of The View, ABC News made it official that Sherri Shepherd will return the lead contributor for the upcoming episodes. She'll be joined by Top Chef host and actress Padma Lakshmi, model and actress Molly Sims, and Ana Navarro, a GOP strategist and frequent guest on a variety of news programs.
There have been reports that The View was going to return to a five-host format this season, and though there are in fact six of them, there will reportedly only be five on the show at any given time. This will allow them the flexibility to pursue other projects and commitments at the same time without causing a huge speed bump for the show.
With all of the hosts and contributors finally locked into place, ABC hopes that this new line up will bring some consistency to the show, both creatively and ratings wise, which has been all over the board in recent seasons.
Your Daily Blend of Entertainment News
Thank you for signing up to CinemaBlend. You will receive a verification email shortly.
There was a problem. Please refresh the page and try again.