The Kardashians Keep Setting Ratings Records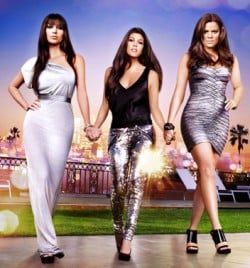 Does Ryan Seacrest really need to become more powerful? He already basically owns the E! Network, dominates in prime-time with American Idol, has his own radio show, hosts both the Dick Clark New Year's Rockin' Eve specials as well as American Top 40. And now his biggest show on E! is beating its own ratings records!
I get it. Kim Kardashian has a big ass. Bruce Jenner has had too much plastic surgery. Khloe is oddly amazonian, and Kourtney is oblivious to what a douchebag Scott is. But what is it about this family that brings in 4.8 million viewers, according to Reuters, to watch their latest season finale? That's more than NBC has been getting for Heroes, and even some episodes of Community and Parks & Recreation. Hell, it's more than The CW gets for most of its lineup, and it's six times more than what E! generally gets for anything else they air.
The Kardashians have become a phenomenon and it makes no sense to me. My wife watches the show, which means I've seen more than my share of episodes. It doesn't seem to stand out in any particular way over any of the other gazillion celebreality programs out there like it. Then again, Kendra also debuted huge for the network, as did the Kardashian spin-off, Kourtney & Khloe Take Miami, coming back for its own second season.
For the longest time, the ratings record on E! was held by The Anna Nicole Show, and suddenly it's being shattered every few months by these new girls. Does that mean Holly's World, featuring Kendra's fellow former Girl Next Door Holly Madison, will hit huge numbers as well? Who knew that hot chicks who don't mind getting in skimpy clothing on a fairly regular basis could equal huge ratings? Apparently, Ryan Seacrest does.
Your Daily Blend of Entertainment News
Your Daily Blend of Entertainment News
Thank you for signing up to CinemaBlend. You will receive a verification email shortly.
There was a problem. Please refresh the page and try again.