Keeping Up With The Kardashians Renewed For Three More Seasons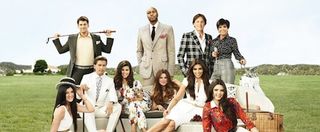 Besides E!'s various news and talk segments, the Kardashian clan is the best thing the network has going for it. Which is why it is really no surprise E! is renewing Keeping Up With the Kardashians, a reality program following the whole family that has been an on-air staple since 2007. What is perhaps a bit more surprising is the length of the new deal.
E! has greenlighted Keeping Up With the Kardashians for three more seasons. While signing on for one more season is an easy call, getting such a large cast to sign on for three more seasons is a much bigger deal. However, it seems E! has been successful; according to THR, all the true members of the Kardashian family, including Kris Jenner, Bruce Jenner, Kim, Khloe, and Kourtney, Rob, Kendall, and Kylie Kardashian are on board, as is Khloe's husband, Lamar Odom. Kourtney's baby daddy Scott Disick seems to be noticeably absent from the deal, but perhaps this is because the couple's relationship is occasionally tenuous and E! does not want to lock someone in for three seasons who may not be around long-term. Not that I'm rooting for Kourtney's kids to go fatherless, I'm just stating the facts, people.
I'm actually a little bummed Kardashian's former and brief husband Kris Humphries will no longer be on board for tapings. His frequent run-ins with brother Rob Kardashian were some of the most pseudo-dramatic things I have ever gotten the privilege to watch.
Season 7 of E!'s Keeping Up With the Kardashians premieres Sunday, May 20 at 9 p.m. ET.
Your Daily Blend of Entertainment News
Thank you for signing up to CinemaBlend. You will receive a verification email shortly.
There was a problem. Please refresh the page and try again.