Keith Urban Returning To American Idol For Season 13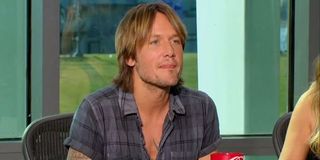 Following a season in which American Idol saw a downward spiral in the ratings, Fox's singing competition series is attempting to put the show through a huge makeover. Nicki Minaj is out. Mariah Carey is out. Nigel Lythgoe, Ken Warwick, and Randy Jackson are out. However, it seems that Keith Urban will be the lone judge from last season to take a chair when Idol returns to the schedule in the spring of 2014.
The news was confirmed on Thursday during Fox's lengthy summer Television Critics Association panel. Fox entertainment chairman Kevin Reilly was the bearer of the unremarkable news, noting that the country singer was a fan favorite during Season 12.
Urban actually does really know his music and did give plenty of adept critiques during last season. However, the last few months have been filled with reports regarding who might take the other chairs on the judges panel. The most intriguing of these was probably the idea that former American Idol contestants would take the stage to help out the new competitors in Season 13. Of these, Kelly Clarkson and Jennifer Hudson were high on the list, with Clay Aiken and Adam Lambert not far behind. Unfortunately, Reilly explained that there were "availability issues" with bringing back a full panel of former contestants, which is likely one of the reasons Urban was re-signed to the series. Still, introducing former contestants as judges might have given the series an edge where full-on celebrity judges will likely feel like a repeat of previous seasons. It seems to not be Fox's fault that this awesome idea won't totally be panning out; rumor has it that some of the people the show wanted like Clarkson said "no" (she has a wedding to plan, after all).
Remember just a few paragraphs ago when I said Randy Jackson is out for Season 13? While the man did exit the series as a judge some months ago, Deadline is reporting that Jackson will return to the competition series in some capacity. This really isn't a surprising fact. Jackson was a judge on the series for far longer than anyone else and it makes sense Fox would try to keep him around, even if he no longer wants to deal with the grueling and lengthy task of judging the series. Right now, guest slots for Jackson to judge are being considered.
Currently, Ryan Seacrest and Urban are the only two onscreen personalities that will return to their positions from last season. Other names, like Jesse Ignjatovic and Evan Prager, have stepped into to fill the shoes of Lythgoe and Warwick. It's clear that American Idol is busy trying to figure out how to make Season 13 epic, but along with Urban's contract renewal, the show has bandied about the idea that Jennifer Lopez may also be returning. From our standpoint, it looks like the show might be fresh out of new ideas, or at least out of ones that can be executed.
Amazing Race & Top Chef superfan with a pinch of Disney fairy dust thrown in. If you've created a rom-com I've probably watched it.
Your Daily Blend of Entertainment News
Thank you for signing up to CinemaBlend. You will receive a verification email shortly.
There was a problem. Please refresh the page and try again.