Kelly Ripa And Hubby Mark Consuelos Sell Cheer To CMT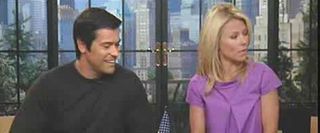 You would think after signing on to Live! for five more years, Kelly Ripa would be working particularly hard to make certain the show stays strong in the ratings and really becomes Ripa's own program. However, it seems Live! is a well-oiled machine, freeing some of Ripa's time up to work with hubby Mark Consuelos on new production projects.
Ripa and Consuelos' production company, Milojo Productions, have put together Cheer, an hour-long reality series following the antics of a competitive cheer squad and that squad's leader, Patty Ann Romero. The couple's production company, seems to be working out well, as CMT has already picked up the project for a six-episode stint and – just like the network's Bayou Billionaires supplements My Big Redneck Wedding - the show will serve as a sister series to CMT's popular program, Dallas Cowboys Cheerleaders, which has run on the network since 2006.
THR first reported the news, citing the show for a September release, although I do believe Cheer seems better suited to TLC than CMT. Regardless, Jay Dinsmore, the CMT exec vp development and programming, says the upcoming series will be "the next breakout hit on the network. " There are still several months to go before audiences will have a chance to give the show a shot. Having a six-episode order under your belt is enough confidence from the network's end to assume Cheer is at least a decent endeavor, at least from CMT's programming perspective. Hope those TLC viewers can figure out how to mosey on over to the Country Music Network.
Your Daily Blend of Entertainment News