Kimmel: Watch Mark Ruffalo Hilariously Steal Candy From His Kids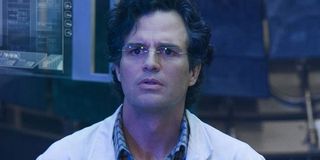 Every year on Halloween, Jimmy Kimmel gets parents to pull a mean-spirited but all-in-good-fun prank on their kids, asking them to steal their kids' Halloween candy and film the reaction. This year, he got Avengers: Age of Ultron actor Mark Ruffalo in on the gimmick and there's even a Marvel-ous surprise for fans. You can give it a watch, below.
As much as we love staring at Ruffalo's burly facial hair, after a short interview with the actor, you can catch the candy fun starting around the 1:50 mark. Basically, like every other Halloween YouTube challenge, Ruffalo tells his kids he ate all their candy. But first he actually throws some candy into his mouth to help make his point a little clearer. He then heads into the other room where his kids and their friends were hanging out, revealing that he "ate" all their candy. They immediately freak out and start chasing him, leading to a moment where Ruffalo loses his temper and turns into The Hulk. We can't make this stuff up. If you haven't given the fun clip a watch, we highly suggest you do so now.
Of course, Ruffalo wasn't the only parent to give his kids bad Halloween news this year. This year marks the fifth year that Kimmel has been doing his annual Halloween YouTube challenge, and this year featured a lot of winners, per usual, including some criers, some flat-out devastated children, some who questioned the decision their parents made and a few foul-mouthed individuals (watch out for the "turkey butthole" comment). Plus there's always the one kid who instantly forgives his parent and totally melts our hearts. You can check out the annual skit, below.
Kimmel's always been a little fond of mean-spirited candy shenanigans, but this year seems to have a few more criers than usual, although I particularly loved the two older kids who called mom out on her lies, noting they must be a part of the Kimmel sketch. If you'd like to see more mean-spirited shenanigans, you can catch last year's sketch, here. But seriously, nothing holds a candle to Mark Ruffalo lying to his kids and then turning into The Incredible Hulk. It's the perfect crossover between late night and Marvel for fans. (Although maybe not as awesome as that time the Avengers played Family Feud on Kimmel.)
You can catch new episodes of Jimmy Kimmel Live! on weeknights at 11:35 p.m. ET, only on ABC.
Reality TV fan with a pinch of Disney fairy dust thrown in. Theme park junkie. If you've created a rom-com I've probably watched it.
Your Daily Blend of Entertainment News
Thank you for signing up to CinemaBlend. You will receive a verification email shortly.
There was a problem. Please refresh the page and try again.