The Late Late Show May Have Found A Host To Replace Craig Ferguson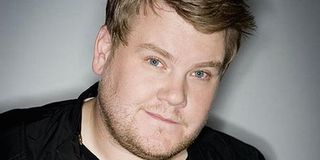 The last few years have brought a series of big late night television changes, among which was Craig Ferguson's announcement that he was leaving The Late Late Show, after hosting the CBS late night talk show for nearly a decade. Since then, we've been left to wait to learn who would be taking over the series. Today, it's being reported that British actor James Corden is being eyed for the spot.
The Wrap reports that James Corden is poised to take over as host of The Late Late Show at CBS, citing an individual with knowledge of the situation. So this is unofficial news at this point, and the site goes on to note that Corden's rep has not commented, nor has CBS confirmed the news yet.
James Corden is a British actor, comedian and TV writer, whose credits include BBC series Gavin & Stacey (which he appeared in and co-wrote, and won a BAFTA for Best Comedy Performance)), two appearances in Doctor Who, and a part in Paul W.S. Anderson's 2011 film The Three Musketeers. Coming up, he's set to play the baker in Disney's Into the Woods. In fact, you can catch a couple of glimpses of him in the recently released trailer...
So we'll be getting another sample of Corden's talent soon enough, whether or not he gets the Late Late Show hosting job. But it would be interesting to see what he might bring to the talk show. Ferguson is expected to finish up his run on The Late Late Show at the end of the year. Meanwhile, over at Late Show, David Letterman is also planning on retiring. It has already been confirmed that Stephen Colbert will succeed Letterman. That's supposed to happen at some point in 2015. So, come next year, we should be seeing a drastically altered late night at CBS, to match the altered NBC lineup, following Jay Leno's exit, and Jimmy Fallon's arrival as host earlier this year.
As mentioned, we learned that Ferguson was leaving The Late Late Show back in April. The host's announcement on air assured fans that his exit was his decision and not the show's or the network's. You can watch that video on the next page...
Your Daily Blend of Entertainment News
Thank you for signing up to CinemaBlend. You will receive a verification email shortly.
There was a problem. Please refresh the page and try again.